New Teej Song Nabhane Buda Le Rin Layo by Nirmala Bhandari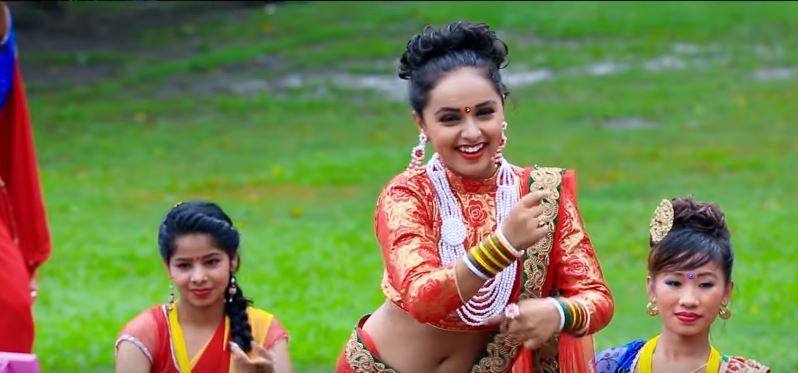 Nabhane Buda Le Rin Layo is a new Nepali teej song by Nirmala Bhandari. The music video features Karishma Dhakal. The song is released on the occasion of Nepali women's great festival 'Haritalika Teej' which is directed by Shankar BC and edited by Nabin Gharti Magar. Rajesh Ghimire is the Cinematographer of this song.
The lyrics as well as music for the song was composed by Bhagwan Bhandari. The music video features talented artist and beautiful model Karishma. She has given her best performances in several music videos. The music video is based on the Nepali festival 'Teej', which is one of the biggest festival of Nepal. This festivals celebrate the bounty of nature, arrival of clouds and rain, greenery and birds with social activity, rituals and customs. This festival is dedicated to Lord Shiva and Parvati. Nepali women and girls do worship Lord Shiva without drinking a single drop of water. Nabhane Buda Le Rin Layo music video was presented by Aashish Music Pvt. Ltd. Once you listen to this song, I am sure you will keep tuning it.
Nabhane Buda Le Rin Layo is released officially online by Music Nepal via Youtube. Hope that you will enjoy this romantic and melodious Teej song:
Here is the lyrics for the song Nabhane Buda Le Rin Layo:
Hee he Pohor ko teeej
Assai gayeo
Gahana kinnai pachhaina
Gahana kinnai pachhaina
Gahana kinnai pachhaina
Hee he Yeo teeja ma ta
Rin khojera ni
Sunai suna nalyae va chhain
Sunai suna nalyae va chhain
Sunai suna nalyae va chhain
Barikha gaeo teejai laeo
Barikha gaeo teejai laeo
Maitai jane din ayeo
Maitai jane din ayeo
Siraiko sirful kinchhu hai maile
Siraiko sirful kinchhu hai maile
Navane budha le rin layeo
Navane budha le rin layeo
He Navane budha le rin layeo
………… ………… ………
Siraima sirful talkaudai
Nachaula kammarai dhalkaudai
Siraima sirful talkaudai
Nachaula kammarai dhalkaudai
Siraima sirful talkaudai
Nachaula kammarai dhalkaudai
………… …………. ………
Hee he Pardesa gako daju vai pani
Farkera ghara achhan re
Farkera ghara achhan re
Farkera ghara achhan re
He he Balara din ka sai sathi pani
Yespali jamma va chhan re
Yespali jamma va chhan re
He Yespali jamma va chhan re
Barikha gaeo teejai laeo
Barikha gaeo teejai laeo
Maitai jane din ayeo
Maitai jane din ayeo
Sunai ko churavkinchhu hai maile
Sunai ko churavkinchhu hai maile
Navane budha le rin layeo
Navane budha le rin layeo
He Navane budha le rin layeo
………… ………… ………
Sunaiko chura talkaudai
Nachaula kammarai dhalkaudai
Sunaiko chura talkaudai
Nachaula kammarai dhalkaudai
Sunaiko chura talkaudai
Nachaula kammarai dhalkaudai
………… …………. ………
Hee he Sunaiko chura sunaiko hara
Sunaiko sifula lagauna
Sunaiko sifula lagauna
He Sunaiko sifula lagauna
He he malae ta rahara theana teti
Hajur kai ijat jogauna
Hajur kai ijat jogauna
He Hajur kai ijat jogauna
Barikha gaeo teejai laeo
Barikha gaeo teejai laeo
Maitai jane din ayeo
Maitai jane din ayeo
Sunai ko Hara vkinchhu hai maile
Sunai ko hara vkinchhu hai maile
Navane budha le rin layeo
Navane budha le rin layeo
He Navane budha le rin layeo
………… ………… ………
Galai ma hara talkaudai
Nachaula kammarai dhalkaudai
Galai ma hara talkaudai
Nachaula kammarai dhalkaudai
SGalai ma hara talkaudai
Nachaula kammarai dhalkaudai
………… …………. ………