Purano Chot by Puskal Sharma and Puja Giri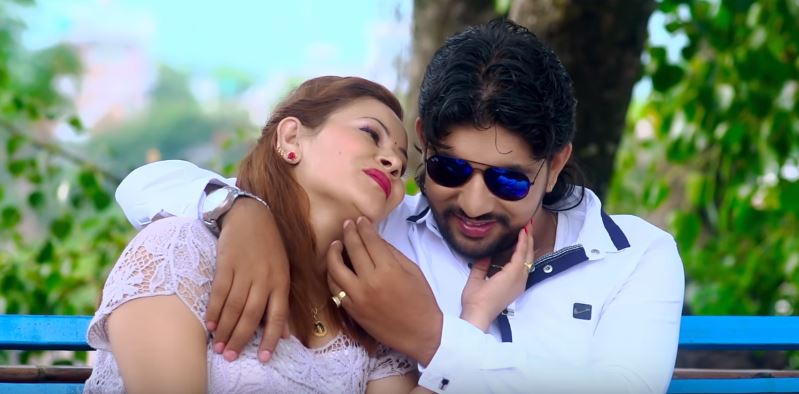 Purano Chot is a new Nepali lok dohori song by Puskal Sharma and Puja Giri. The music video features Puja, Binod, Anuska and Roshani. This music video was directed by Kapil Lama. Purano chot was edited by Amar Shakya and was cinematographed by Sagar Gautam. Purano Chot is a Nepali song that tells misunderstanding and doubt is the weaknesses of the relation.
The lyrics for the song was written by Manu Aabhash and music was done by Raju Magar. This song express the pain of betrayal lovers and about misunderstanding in relationship. Once, Mr. Will Donner said that "Truth is nothing. What you believe to be true is everything". So, be positive. Believe in relationship and your partner then there will be always happiness and joy in relation. In Purano Chot, Puja and Binod separated due to some misunderstanding between them and now they are suffering to meet again. This music video was presented by Malati Digital Pvt. Ltd. When you once listen to this music video, I am sure you will keep repeating it.
Purano Chot is officially released online by Music Nepal via YouTube. Hope that you guys will enjoy this melodious lok dohori song.
Here is the lyric for the song Purano Chot:
Chhodeu tmle din vayeo rat jastai
Vachhu aula binako hat jastai
Bacheko thea puranai chot sahera
Jhardai ansu man bujhachhu
Aaa sanu maile ta
Tei ansu lae sathi banayera
Din vayeo rat jastai
Vachhu aula binako hat jastai
Bacheko thea puranai chot sahera
Jhardai ansu man bujhachhu
Aaa sanu maile ta
Tei ansu lae sathi banayera
Jhardai ansu man bujhachhu
Aaa sanu maile ta
Tei ansu lae sathi banayera
Sayed sukha rainachha karmama
Tmi afai nabasda dharma ma
Bacheko thea puranai chot sahera
Jhardai ansu man bujhachhu
Aaa sanu maile ta
Tei ansu lae sathi banayera
Rainachha karmama
Tmi afai nabasda dharma ma
Bacheko thea puranai chot sahera
Jhardai ansu man bujhachhu
Aaa sanu maile ta
Tei ansu lae sathi banayera
Jhardai ansu man bujhachhu
Aaa sanu maile ta
Tei ansu lae sathi banayera
………. ………. …………
Tmi bahek ko chha ra arko
Vaye sikar sankhalu najarko
Bacheko thea puranai chot sahera
Jhardai ansu man bujhachhu
Aaa sanu maile ta
Tei ansu lae sathi banayera
Ko chha ra arko
Vaye sikar sankhalu najarko
Bacheko thea puranai chot sahera
Jhardai ansu man bujhachhu
Aaa sanu maile ta
Tei ansu lae sathi banayera
Jhardai ansu man bujhachhu
Aaa sanu maile ta
Tei ansu lae sathi banayera
Suneko va vaye pataunathe baru
Dekhe afnai ankha le k garu
Bacheko thea puranai chot sahera
Jhardai ansu man bujhachhu
Aaa sanu maile ta
Tei ansu lae sathi banayera
pataunathe baru
Dekhe afnai ankha le k garu
Bacheko thea puranai chot sahera
Jhardai ansu man bujhachhu
Aaa sanu maile ta
Tei ansu lae sathi banayera
Jhardai ansu man bujhachhu
Aaa sanu maile ta
Tei ansu lae sathi banayera
………… ……….. ………