Sanumaya by Dhan Sampang Rai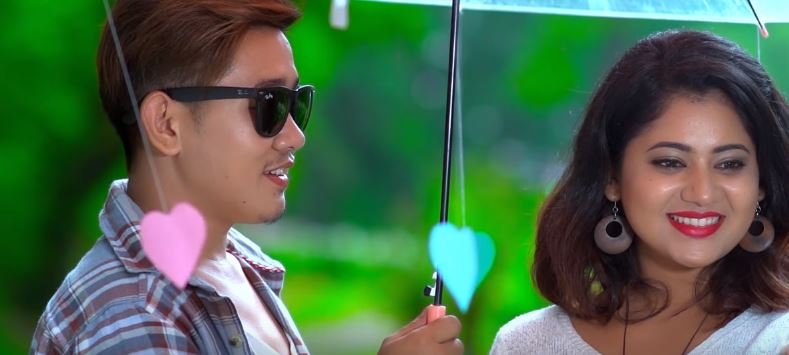 Sanumaya is a new Nepali romantic song from album "SANUMAYA". The music video features Bishal and Keki Adhikari. Sanumaya is a Nepali song by Dhan Sampang Rai which is directed by Rakesh Kirati. The music video was cinematographed by Bhupendra Tumbahamphe and edited by Buddha Thapa Magar.
The lyrics and music for this song was composed by Sam Liimbu and music video was arranged by Chandu Gorkhali. The music video features versatile actress Keki Adhikari. Keki Adhikari has appeared in numerous music videos, television commercials, print ads and more than a dozen of Nepali movies. She is also known as Queen of Nepali Cine industry. In this music video, due to pretty face of Keki Adhikari, Bishal was unknowingly fallen in love with her. Here, we can see the good love chemistry between Bishal and Keki Adhikari. When you once listen this song, I am sure you will keep repeating it.
The music video is released officially online by SongsNepal via Youtube. Hope that you will enjoy this melodious romantic song Sanumaya.
Here is the lyrics for Sanumaya:
Sanumaya Sanumaya Sanumaya hoo
Sajha ko pauna banera aachu
Dil khali cha ki bhanera aachu
Sajha ko pauna banera aachu
Dil khali cha ki bhanera aachu
Sanumaya hooooo
Sanumaya Sanumaya Sanumaya hoo…..

Sara duniya khojhi hiddde
Sara duniya khojhi hiddde
Paena mann ko bitra
Mann chaena bakna aru
Mann chaena bakna aru
Rakha tyo dil bitra
Mann chaena bakna aru
Rakha tyo dil bitra
Sanumaya Sanumaya Sanumaya hoo…..

Jhuto kasam khako chaena
Jhuto kasam khako chaena
jugau jane preeta lau
Sojho manche sidha kura
Sojho manche sidha kura
Dhate bhane mari jau
Sojho manche sidha kura
Dhate bhane mari jau
Sajha ko pauna banera aachu
Dil khali cha ki bhanera aachu
Sanumaya hooooo
Sanumaya Sanumaya Sanumaya hoo
Sanumaya Sanumaya Sanumaya hoo
Sanumaya Sanumaya Sanumaya hoo
Sanumaya Sanumaya Sanumaya hoo………