Alla Malla by Durgesh Thapa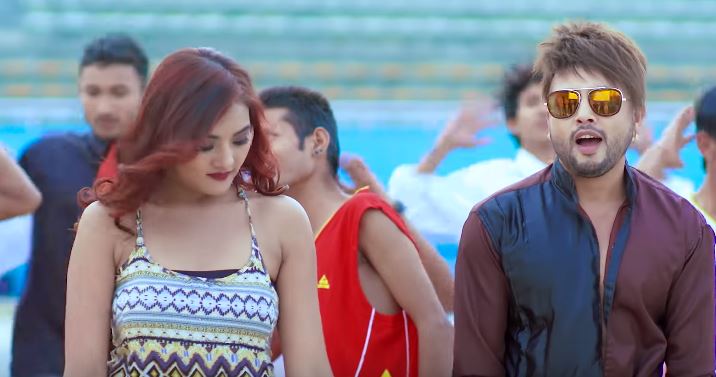 Alla Malla is a new Nepali romantic song by Durgesh Thapa. The music video features Durgesh Thapa and Siwani Chettri. Alla Malla is a Nepali song which is directed by Kranti K.C. The music video was cinematographed by Ajay Regmi and edited by Kranti K.C.
The lyrics and music of this song was composed by Basanta Thapa. The music video features versatile model Siwani Chettri. Siwani Chettri has appears as a hot and sexy model in this music video. Alla Malla is a romantic love song where we can see the romance between well known artist as well as singer Durgesh Thapa and hot model Siwani Chettri. They have given their outstanding performance. Alla Malla music video was post production by Dacon Picture. When you once listen this song, I am sure you will keep repeating it.
The music video is released officially online by Durgesh Thpa via Youtube. Hope that you will enjoy this melodious romantic song Alla Malla.
Here is the lyrics for Alla Malla:
Alla Malla Alla Malla
Garchau Alla Malla

Alla Malla Alla Malla
Garchau Alla Malla
Dherai din ma darsan
Paeyo aja balla balla
Dherai din ma darsan
Paeyo aja balla balla

Moe pare po madani
Chilo huncha re
Ne pareko madani
Ae sukha huncha re
Ae maya garchau bhanne
Dukha huncha re
Samjhinchu ma bhanera
Dhat chau jaela ni
Samjhieta badulki eh
Dhukha huncha re
Ae maya garchau bhanne
Dukha huncha re
Ae maya garchau bhanne
Dukha huncha re………

Huncha bhane huncha bhana
Hunna bhane hunna

Huncha bhane huncha bhana
Hunna bhane hunna
Na jane lai fakae fakae
Maela chudai chunna
Na jane lai fakae fakae
Maela chudai chunna

Dhagmare po pithuma
Maya huncha re
Muthi pare hane ta
Ae mukka huncha re
Dukha huncha re
Samjhinchu ma bhanera
Dhat chau jaela ni
Samjhieta badulki eh
Dhukha huncha re
Ae maya garchau bhanne
Dukha huncha re
Ae maya garchau bhanne
Dukha huncha re………