Chauriko Goth by Pramila Pun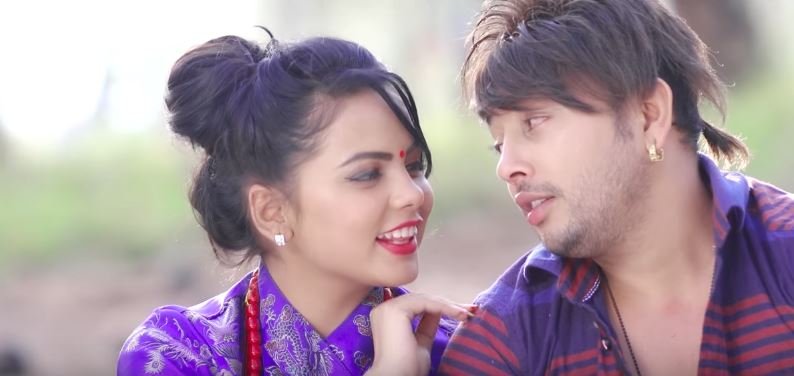 Chauriko Goth is a new Nepali melodious lok pop song by Pramila Pun. The music video features Durgesh Thapa & Rachana Lama. Chauriko Goth is a Nepali song by Pramila Pun which is directed by Kranti KC. The music video was Cinematographed by Ajay Regmi and music video was edited by Kranti KC.
The music of this song was composed by Sundar Lama and Lyrics of this song is written by Shiva Sangam Rai. The music video features by Rachana Lama. She is one of the hot and sexy actress who has given her best performance in many music video. In this music video, She has appear in traditional dress. The song want to flash the Nepali culture as well as beauty of Nepal. Here we can see the romance between Durgesh Thapa & Rachana Lama. When you once listen this song, I am sure you will not forget to like and share this music video with everyone.
The music video is released officially online by Music Nepal via Youtube. Hope that you will enjoy this Melodious lok pop song Chauriko Goth.

Here is the lyrics for Chauriko Goth:
Chauriko Goth mai dhaula
Chauriko Goth mai dhaula
Changba ko ghar batai ma
Changba ko ghar batai ma
Thaha chaena kunni kaela ho
Thaha chaena kunni kaela ho
Basechha mero mannai ma
Basechha mero mannai ma….

Dhupi ra salla ko jungle ma
Batai chakane sun pate

hoo
Dhupi ra salla ko jungle ma
Batai chakane sun pate
Ma kati lekhu Aula le
Usai ko namu heu mathi
Ma kati lekhu Aula le
Usai ko namu heu mathi
Heu boki boki phulai le
Heu boki boki phulai le
Setaima pakha dhakolau
Setaima pakha dhakolau
Selo ma tumba ko
Dhunai le
Selo ma tumba ko
Dhunai le
Changba le kasalai dhakyo lau
Changba le kasalai dhakyo lau…..

Na bheta katai na dhekha
Muhar dhekha chhu himal ma

Na bheta katai na dhekha
Muhar dhekha chhu himal ma
Yo jiban usai lai sumpane
kae sake kasam ghumba ma
hoo Yo jiban usai lai sumpane
kae sake kasam ghumba ma
Sunai ko chokho paani jhai
hoo Sunai ko chokho paani jhai
Chokho chha mero joban na
Chokho chha mero joban na
Thaha chaena kunni k bhayo
Thaha chaena kunni k bhayo
Usai lai khojha chha yo mann na
Usai lai khojha chha yo mann na……………