Ishwor Taile By Narayan Gopal (Audio)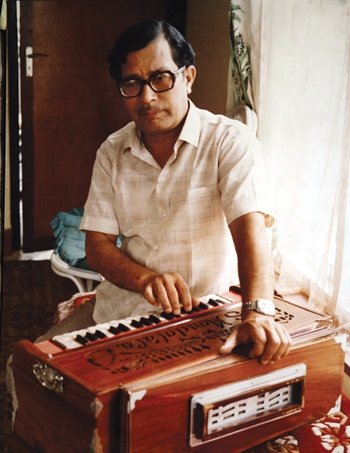 Ishwor Taile is a emotional, sentimental and evergreen song by Narayan Gopal. He is by far the most prominent and popular singer in Nepali music. The song is taken from album "Geeti Shradhanjali-2". This song is about the natural law of death.
The music and lyrics for this song was written by Kali Parsad Rijal. Narayan Gopal is one of those singers who gained such heights of popularity with minimum number of song as he had only recorded 137 songs during his life. He had registered himself as N. Gopal during his entrance to Radio Nepal. His favorite singer was Mehdi Hassan and he also loved body building as his favorite signer did. Narayan Gopal even called himself as 'Syando Pehelman'. Although his mother language is Newari, he sang only three songs in the language and none of them were recorded. When you once listen this song, I am sure you will keep singing it.
The music video is released officially online by sushantadh via Youtube. Hope that you will enjoy this melodious evergreen Lok pop song Ishwor Taile.
Here is the lyrics for the song:
Ishwor taile rachera pheri kasari bigares
Shristi ko phool rachera
Testo kasari lataris
Tyo phool hare malai
Dee kasari pachhares
Hey didi maila tee muna
Dekhda muna ko muhar
Tee muna pani mardachin
Bhanne thyena bichar
Muna chhati ko juhar
Prithivi tira na hera
Muna ma pani aauchu
Aankha ma aansu liyera
Chino ma bhetna aauchu
Prem ko hira chute ko
Tala ma liee aauchu
Kasari khayo aago le
Didi kamal ko sarir
Kasari khayo nithuri bhye kamal ko sarir
Kasari khayo aago le didi kamal ko sarir
Kasari khayo nithuri bhye kamal ko sarir
Ma kaha pau tee muna lai chhati ma lagau
Kharani tin ko malai deu na chhati ma lagau
Hey meri aama hey meri muna ma yeha basdina
Ma yeha aaba basdina aama ma yeha basdina
Ma yeha aaba basdina muna ma yeha basdina
Hey mera bhai tee timri muna mareki chainan tee
Jyoti ko sworoop liyera gaien bagaicha basanti
Swarga ka chara gauchan unko madhur jayanti
Parda le dhakyo parda le chekyo hey didi malai
Ma rune chaina gayera bholi bhetula tene lai
He daiva ma parda chadai nai utha dhanya cha talai
He daiva ma parda chadai nai utha dhanya cha talai