Banai Khayo Dadhelole By Narayan Gopal (Audio)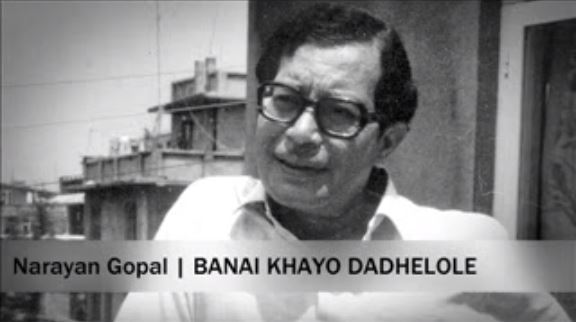 Banai Khayo Dadhelole is sentimental, evergreen and one of the most loved song by Narayan Gopal. Narayan Gopal Guruacharya is by far the most prominent and popular singer in Nepali music. The song is taken from album "Malai Nasodha". Song is full of deep meaning lyrics along with melodious and awesome music.
The lyrics for this song was written by Narayan Gopal and the music was also composed by Narayan Gopal himself. Lot of you have heard Phatteman's version. But this version is performed by legend himself. Narayan Gopal is well known as a singer but was also an accomplished composer. His favorite singer was Mehdi Hassan and he also loved body building as his favorite signer did. Narayan Gopal even called himself as 'Syando Pehelman'. Although his mother language is Newari, he sang only three songs in the language and none of them were recorded. This is also emotional and sentimental song which describe the emotional feeling of lover. When you once listen this song, I am sure you will keep singing it.
The music video is released officially online by Ashishvia Youtube. Hope that you will enjoy this melodious Lok Pop song.
Here is the lyrics for the song Banai Khayo Dadhelole:
Banai khayo dhadelole
Manai khayo tyoe mori ko papi maya ley
Banai khayo dhadelole
Manai khayo tyoe mori ko papi maya ley
Aada rati bujheea ra jau jau
Lagcha dhafey sari baygaa marera
Bok pane chaena malai tirkha
Pane chena mann bujhauney k po gare ra
Khola sukyo khadaaleley yo
Jhan sukhyo baigunee ko asai asha ley

Banai khayo dhadelole
Manai khayo tyoe mori ko papi maya ley

Hasai ma laski barai aankha mero
Tyo maya ko chandra badhanaa
Parelimai aljheeyo kee kathai
Mutu mero kati ramro bolee bachanaa

Bali lagyo aashena ley joban
Lagyo baimanee ko jhelkey maya ley

Banai khayo dhadelole
Manai khayo tyoe mori ko papi maya ley