Chirbir Chirbir Chachari From Movie RUDRAPRIYA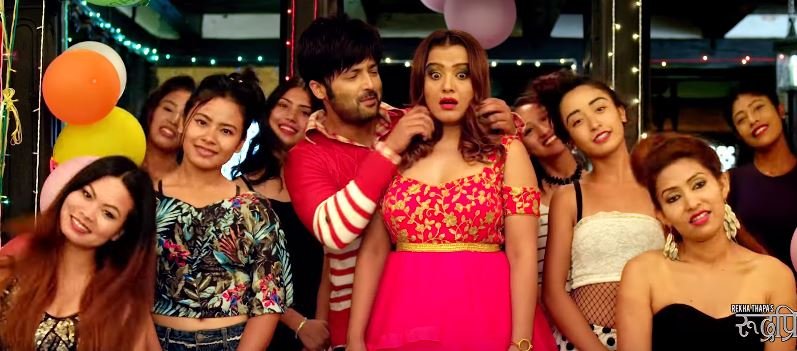 Chirbir Chirbir Chachari is a Nepali Melodious romantic song from the New Nepali Movie "RUDRAPRIYA". The music video features actor and actress are Rekha Thapa, Aryan Sigdel and Rajan Ishan. Chirbir Chirbir Chachari song is a Nepali song by Rajanraj Shiwakoti, Melina Rai and Greeshma Shiwakoti. Chirbir Chirbir Chachari music video is directed by Sudeep Bobbie and Bhupal Singh and was choreographed by Prabin Singh.
The lyrics and music for this song is composed by Rajanraj Shiwakoti and music video was arranged by Rajan Ishan. The music video features versatile actress Rekha Thapa. Rekha Thapa is known as Nepali actress, model and film maker. She has worked in more than 100 Nepali movies and has gained popularity in the Nepali cine world because of her glamorous role. She was supported by another handsome actor Aryan Sigdel. After 6 year they have back in same movie. Chirbir Chirbir Chachari is a romantic music video. I assure you people will love the music and tune repeatedly once after you hear it.
The music video is released officially online by Budha Subba Digital Pvt Ltd via Youtube. Hope that you will enjoy this romantic Song Chirbir Chirbir Chachari.
Here is the lyrics for Chirbir Chirbir Chachari:
Chirbir chirbir chachari
Lai lai lai lai
Chirbir chirbir chachari
Lai lai lai lai
Chirbir chirbir chachari
lai lai la lalai lai
Chirbir chirbir chachari
lai lai la lalai lai
Bhun bhun gardai ma
Aaye puge timro chau
Mero maya cha bhana
Rumal chino chau
Bhun bhun gardai ma
Aaye puge timro chau
Mero maya cha bhana
Rumal chino chau
Mero maya cha bhana
Rumal chino chau

Magmagauna vaki chu
Timrai chau aako chu
Magmagauna vaki chu
Timrai chau aako chu
Mero maya cha bhana
Aauthe chino dau
Mero maya cha bhana
Aauthe chino dau
Aagani ma kaldhari
kaldharo ma lau
Mero maya cha bhana
Aauthe chino dau…..

Kati ramari kya ramari
kati ramari kati ramari
Kya ramari kati ramari
Gajal tike lakichau
Sari ramari vaki chau
Mero maya cha bhana
Rumal chino chau
Gajal tike lakichau
Sari ramari vaki chau
Mero maya cha bhana
Rumal chino chau
Mero maya cha bhana
Rumal chino chau

Magmagauna vaki chu
Timri chau aako chu
Magmagauna vaki chu
Timri chau aako chu
Mero maya cha bhana
Aauthe chino dau
Mero maya cha bhana
Aauthe chino dau
Aagani ma kaldhari
kaldharo ma lau
Mero maya cha bhana
Aauthe chino dau

Gajal tike lakechau
Sari ramari vaki chau
Mero maya cha bhana
Rumal chino chau
Aagani ma kaldhari
kaldharo ma lau
Mero maya cha bhana
Aauthe chino dau
Bhun bhun gardai ma
Aaye puga timro chau
Mero maya cha bhana
Rumal chino chau
Aagani ma kaldhari
kaldharo ma nali
Mero maya cha bhana
Aauthe chino dau

Chirbir chirbir chachari
Lai lai lai lai
Chirbir chirbir chachari
Lai lai lai lai
Chirbir chirbir chachari
lai lai lai lai
Chirbir chirbir chachari
lai lai lai lai
Chirbir chirbir chachari
Lai lai lai lai
Chirbir chirbir chachari
Lai lai lai lai
Chirbir chirbir chachari
lailai la lalai lai…………