Choli Ramro by Binita Rai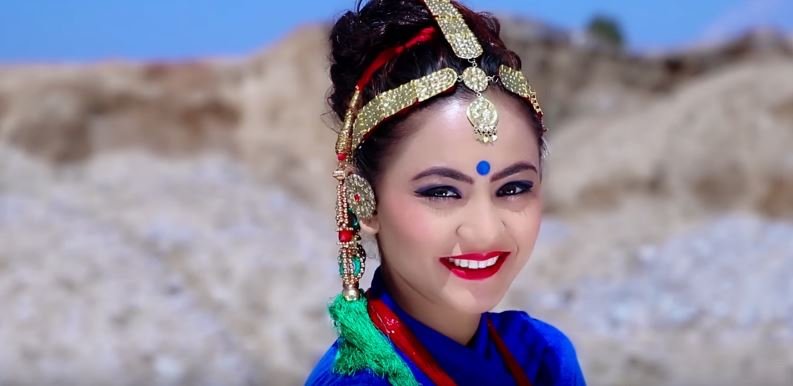 Choli Ramro is a new Nepali melodious lok pop song by Binita Rai. The music video features D.B Tamang and Anu Parajuli. Choli Ramro is a Nepali song by Binita Rai which is directed by Aashik Rai. Choli Ramro music video was Cinematographed by Bikram Karki and music video was edited by Manish Karki.
The music of this song was composed by D.B Tamang and Lyrics of this song is written by D.B Tamang himself. The music video is featuring by Anu Parajuli. She is one of the hot and sexy actress who has given her best performance in many music video. In this music video, She has appear in national dress. She want to show the eastern culture of Nepal in this music video. In this music video, she has romance with D.B Tamang. When you once listen this song, I am sure you will not forget to like and share this music video with everyone.
The music video is released officially online by HighlightsNepal via Youtube. Hope that you will enjoy this Melodious lok pop song Choli Ramro.

Here is the lyrics of Choli Ramro:
Choli ramro makhamal ko
Jodhi ramro mann le khako
Choli ramro makhamal ko
Jodhi ramro mann le khako
Sajhayera mutu bhitra
Timilai nai maya lako
Choli ramro makhamal ko
Jodhi ramro mann le khako….

Putali jhai phul bari ma
Ghumu ghumu lagcha ni
Aakasha ko jun
Chau chau lagcha ni

Putali jhai phul bari ma
Ghumu ghumu lagcha ni
Aakasha ko jun
Chau chau lagcha ni
Timro satha pauna bhaye
Bhultheya hola chanchale
Mann pani mann pani
Timro satha pauna bhaye
Bhultheya hola chanchale
Mann pani mann pani
Launa ae shamhali dau
Piyar le timro afno
Thani thani
Choli ramro makhamal ko
Jodhi ramro mann le khako….

Chalchal kiyera hiu jhai
Orlincha tana
Kun mandir ma bisau
Yo mero manna

Chalchal kiyera hiu jhai
Orlincha tana
Kun mandir ma bisau
Yo mero manna
Bolne haru boli rahu
Herna le heri rahu
Chaena mero bandhan
Bolne haru boli rahu
Herna le heri rahu
Chaena mero bandhan
Jati rokchu bandha pani
Roknai garo bhayo mero
Yo mann
Choli ramro makhamal ko
Jodhi ramro mann le khako

Choli ramro makhamal ko
Jodhi ramro mann le khako
Sajhayera mutu bhitra
Timilai nai maya lako
Choli ramro makhamal ko
Jodhi ramro mann le khako………