Ghanti Bajyo By Tanka Budhathoki And Milan Amatya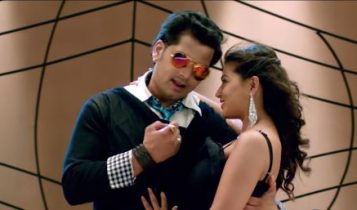 Ghanti Bajyo is a Nepali romantic song from Nepali Movie "Hawaldar Suntali". The music video features actor and actress Shilpa Pokhrel, Sabin Shrestha and Kishor Khatiwoda. The song Ghanti Bajyo is sang by singer Tanka Budhathoki and Milan Amatya. The music video is directed by Rhishi Lamichhane and edited by Ananta Thapaliya. And the cinematography is done by Madan Kasyap Ghimire.
The music for this song is composed by Tanka Budhathoki and the lyrics is written by Dinesh Shubedi. In this movie one of the famous actress Rekha Thapa played the main role. The movie motivates the girls and tries to deliver the message that girls can do everything as they are also the human like boys. The movie is supposed to be a full package of romance, love, freedom, friendship, humor and action. The movie is presented by Chabiraj Production. Ghanti Bajyo music video is one of the loved song of this movie. Once you listen to this you will keep chanting it.
The music video is released officially online by Budha Subba Digital Pvt Ltd via Youtube. Hope that you will enjoy this romantic song Ghanti Bajyo.
Here is the lyrics for the song Ghanti Bajyo:
Ma nineteen year ki beauty
Timi handsome twenty one ko
Timle choye pachi badyo-badyo
Beat dhadkan ko
Ghanti bajyo
Ghanti bajyo
Ghanti bajyo manko
Ghanti bajyo manko
Timi nineteen year ki beauty
Ma handsome twenty one ko
Ma handsome twenty one ko
Timle choye pachi badyo-badyo
Beat dhadkan ko
Ghanti bajyo
Ghanti bajyo
Ghanti bajyo manko
Ghanti bajyo manko

Khelda-kheldei-khelda-kheldei
Timi sanga side
Udyo mann happy bani
Banera ho kite…
Deeda-deedai-deeda-deedai
Timi lai smile
Bhariyeo hai yo
Dilei ma chahana ko file
Bhariyeo hai yo
Dilei ma chahana ko file
Ghanti bajyo
Ghanti bajyo
Ghanti bajyo manko
Ghanti bajyo manko

Timi nineteen year ki beauty
Ma handsome twenty one ko
Timle choye pachi badyo-badyo
Beat dhadkan ko
Ghanti bajyo
Ghanti bajyo
Ghanti bajyo manko
Ghanti bajyo manko
Lovely-lovely-lovely-lovely
Timro looks
Timro name lekhi-lekhi
Bhare dilko books
Sweet-sweet-sweet-sweet
Sweet timro voice
Baneu timi yo jyaan
Ko number one choice
Baneu timi yo jyaan
Ko number one choice
Ghanti bajyo
Ghanti bajyo
Ghanti bajyo manko
Ghanti bajyo manko
Timi nineteen year ki beauty
Ma handsome twenty one ko…
Timi nineteen year ki beauty
Ma handsome twenty one ko…
Timle choye pachi badyo-badyo
Beat dhadkan ko…
Ghanti bajyo…
Ghanti bajyo manko
Ghanti bajyo
Ghanti bajyo
Ghanti bajyo manko

Ma nineteen year ko beauty
Timi handsome twenty one ko
Ma nineteen year ko beauty
Timi handsome twenty one ko
Timle choye pachi badyo-badyo
Beat dhadkan ko
Ghanti bajyo
Ghanti bajyo manko…
Ghanti bajyo
Ghanti bajyo
Ghanti bajyo manko