Pal Pal Harpal From Movie BLACK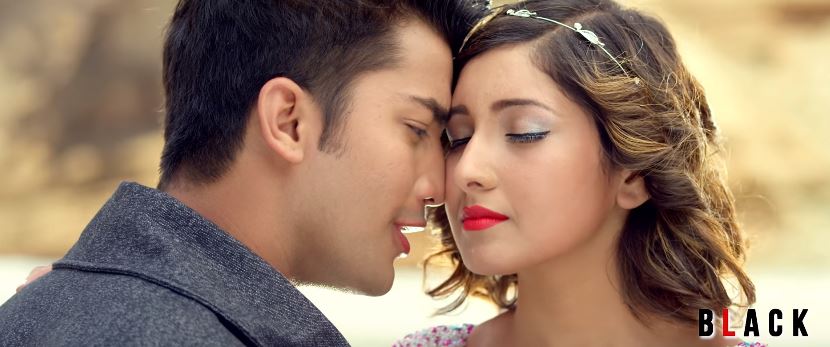 Pal Pal Harpal is a new Nepali romantic love song from the Nepali movie "BLACK". The music video features actor and actress are Aakash Shrestha and Aachal Sharma. Pal Pal Harpal is a Nepali movie song by Sugam Pokhrel which is directed by Basanta Adhikari. The music video was edited by Arjun GC and was cinematographed by Ramsharan Uperati.
The music for this song was composed by Mahesh Khadka and lyrics was written by Dr. Kabiraj Bantawa. The music video features versatile actress Aachal Sharma with a amazing looks. She has appeared in numerous music videos, television commercials, print ads and more than a dozen of Nepali movies. "BLACK" is all about the romantic love story movie which was choreographed by Ramji Lamichhane. When you will listen this song, I am sure you will keep listen again and again.
The music video is released officially online by Budha Subba Digital Pvt Ltd via Youtube. Hope that you will enjoy this melodious  song Pal Pal Harpal.
Here is the lyrics for Pal Pal Harpal:
Naya naya anuhar ma
Autai sathi khojhi
Rayechu ma
Pal pal harpal
Pal pal harpal
Ummm Pal pal harpal
Pal pal harpal
Malae maaf gari dau
Ae mann
Malae maaf gari dau
Ae mann
Biraye bhane
Naya naya anuhar ma
Autai sathi khojhi
Rayechu ma
Pal pal harpal
Pal pal harpal
Ummm Pal pal harpal
Pal pal harpal
Pal pal harpal
Pal pal harpal………..

Juna jasto setal
Tara jastai jhalmal

Juna jasto setal
Tara jastai jhalmal
Basanta le sajhiyeki
Jharna jastai kal kal
Basanta le sajhiyeki
Jharna jastai kal kal
Autai sathi khojhi
Rayechu ma
Pal pal harpal
Pal pal harpal
Ummm Pal pal harpal
Pal pal harpal
Pal pal harpal
Pal pal harpal………

Maya ho ki nasa
Lagi rahancha tal tal

Maya ho ki nasa
Lagi rahancha tal tal
Santa manna chanchal bani
Banae dine halchal
Santa manna chanchal bani
Banae dine halchal
Autai sathi khojhi
Rayechu ma
Pal pal harpal
Pal pal harpal
Ummm Pal pal harpal
Pal pal harpal
Pal pal harpal
Pal pal harpal………