Jaba Jaba Timro Saath From Movie JOHNNY GENTLEMAN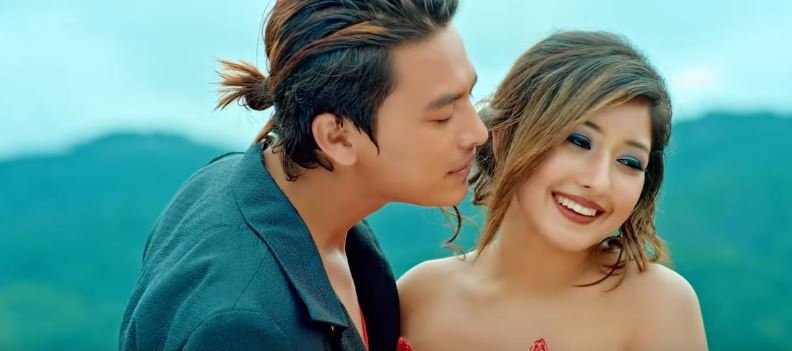 Jaba Jaba Timro Saath is a new Nepali romantic song from the Nepali movie "JOHNNY GENTLEMAN". The music video features actor and actress are Paul Shah and Aachal Sharma. Jaba Jaba Timro Saath is a Nepali movie song by Anju Panta and Suresh Lama which is directed by Nitin Chand. The music video was edited by Nabin Niraula and music video was cinematographed by Rupesh Thapa.
The lyrics as well as music for this song was composed by Arjun Pokharel and music video was arranged by Uday Raj Poudel. The music video features versatile actor Paul Shah with a new looks. He has appeared in numerous music videos, television commercials, print ads and more than a dozen of Nepali movies. "JOHNNY GENTLEMAN" is all about the romantic love story as well as action movie which was choreographed by Prabin Singh. When you will listen this song, I am sure you will keep listen again and again.
The music video is released officially online by HighlightsNepal via Youtube. Hope that you will enjoy this melodious  song Jaba Jaba Timro Saath.
Here is the lyrics for Jaba Jaba Timro Saath:
Jaba Jaba Timro Saath
Mildai mildai gayo

hmmm Jaba Jaba Timro Saath
Mildai mildai gayo
Dharo dharma mero jindagi
Kaaya palata bhayo
Yestai maya gari rahu
Angalo ma beri rahu
Sadai timrai hune mann cha
Yo mannle sadai lai
Maya garne timilai
Dhuk dhuki bhauchu bhancha
Yestai maya gari rahu
Angalo ma beri rahu
Sadai timrai hune mann cha
Yo mannle sadai lai
Maya garne timilai
Dhuk dhuki bhauchu bhancha……

Lagcha malae mero jiban
Fikka rayecha paela

Lagcha malae mero jiban
Fikka rayecha paela
Sworga jhai aabasha huncha
Aafnai jiban aela
Yestai maya gari rahu
Angalo ma beri rahu
Sadai timrai hune mann cha
Yo mannle sadai lai
Maya garne timilai
Dhuk dhuki bhauchu bhancha……

Timro satha chha Madhumas cha
Niyano niyano mithas cha

Timro satha chha Madhumas cha
Niyano niyano mithas cha
Timichau ra ta
Mero jindagani khas cha
Yestai maya gari rahu
Angalo ma beri rahu
Sadai timrai hune mann cha
Yo mannle sadai lai
Maya garne timilai
Dhuk dhuki bhauchu bhancha

Jaba Jaba Timro Saath
Mildai mildai gayo
Dharo dharma mero jindagi
Kaaya palata bhayo
Yestai maya gari rahu
Angalo ma beri rahu
Sadai timrai hune mann cha
Yo mannle sadai lai
Maya garne timilai
Dhuk dhuki bhauchu bhancha
Yestai maya gari rahu
Angalo ma beri rahu
Sadai timrai hune mann cha
Yo mannle sadai lai
Maya garne timilai
Dhuk dhuki bhauchu bhancha…………