Jamara Chharkera by Bigyan Rokaya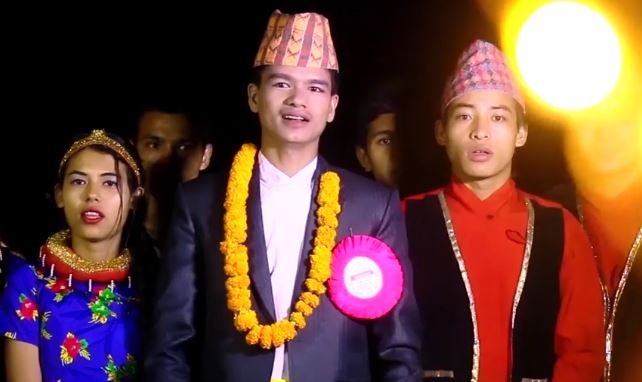 As the biggest festival of Nepalese Dashain is near NM Films has presented a brand new song "Jamara Chharkera" by Bigyan Rokaya which is officially released by Highlights Nepal.
This festive Nepali songs is composed by Khemraj Pariyar with the music composed by Bigyan Rokaya. The music video is directed by Nischal KC featuring various dancing crews. This music video is edited by Nabin Gharti Magar. You can enjoy watching this brand new Dashain song 'Jamara Chharkera' as available here.
This songs begins like this:
Hey..
Barsai din ko tihar aayo deusire bhana
deusire
hey..
charai tira rangi ra changi deusire bhana
deusire
hey..
daju bhai didi bahini deusire bhana
deusire
hey..
nachdai ra gaudai ramailo gardai deusire bhana
deusire

Fule holan baribhari hajari ful pani
bato herdai holin pyari aaune dn gardai
jamara charkera…

Rakhara hai jamara charkera
yaspali dashain ra tihar ma
aauchhu ghar farkera

Rakhara hai jamara charkera
yaspali dashain ra tihar ma
aauchhu ghar farke..

Haa haa. yaspali dashain ra tihar ma
aauchhu ghar farkera…