Jindagi Yeuta Geeta Ho From Movie BHUIMANCHHE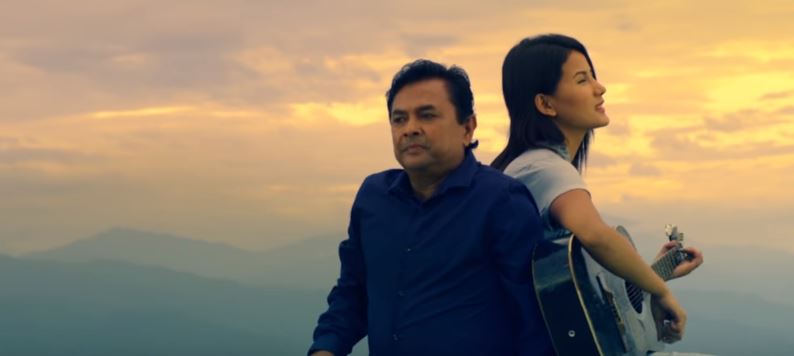 Jindagi Yeuta Geeta Ho is a new Nepali aadhunik song from the Nepali movie "BHUIMANCHHE". The music video features Ramesh Budhathoki, Sipora Gurung and Sahin Prajapati. Jindagi Yeuta Geeta Ho is a Nepali movie song by Pramod Kharel which is directed by Nabaraj Budhathoki. The music video was edited by Gambir Raj karnikar & Madhu Sudan Sanjel and was Choreographed by Kamal Rai & Kabiraj Gahatraj.
The music for this song was composed by Arjun Pokhrel and lyrics was written by Arjun Pokhrel. The music video features versatile actress Sipora Gurung. The music video as well as movie was based on love and romance. The versatile singer Pramod Kharel has given his melodious voice in this music video. When you will listen this song, I am sure you will keep listen again and again.
The music video is released officially online by Budha Subba Digital Pvt Ltd via Youtube. Hope that you will enjoy this melodious song Jindagi Yeuta Geeta Ho.
Here is the lyrics for Jindagi Yeuta Geeta Ho :
Jindagi Yeuta Geeta Ho
Gaudai gaudai jau
Jindagi maya preeta ho
Laudai laudai jau

Jindagi Yeuta Geeta Ho
Gaudai gaudai jau
Jindagi maya preeta ho
Laudai laudai jau
Gaudai gaudai jau
Gaudai gaudai jau
Jindagi maya preeta ho
Laudai laudai jau…..

Timinai hau mero khusi
Geet ma gun gunauna
Timilai nai maela
Mann ka kura haru sunauna

Timinai hau mero khusi
Geet ma gun gunauna
Timilai nai maela
Mann ka kura haru sunauna
Mann lai ramauna dau
Timro mann saga
Mitho samdhanda cha
TImro jiban saga
Jindagi har jita ho
Hasdai ramaudai jau
Jindagi maya preeta ho
Laudai laudai jau
Gaudai gaudai jau
Gaudai gaudai jau
Jindagi maya preeta ho
Laudai laudai jau…..

katai maedan pata
Katai ta bhirai bhira
Jiban ma haso kaela
Kaela ta pirai pira

katai maedan pata
Katai ta bhirai bhira
Jiban ma haso kaela
Kaela ta pirai pira
Mann ka kura satna dau
Timro mann saga
Mitho sambanda cha
Timro jiban saga
Jindagi yae rita ho
Haat samaudai samaudai jau
Jindagi maya preeta ho
Laudai laudai jau
Gaudai gaudai jau
Gaudai gaudai jau
Jindagi maya preeta ho
Laudai laudai jau………