Kya Babal by Swaroop Raj Acharya & Sujata K.C From Nepali Movie SURYA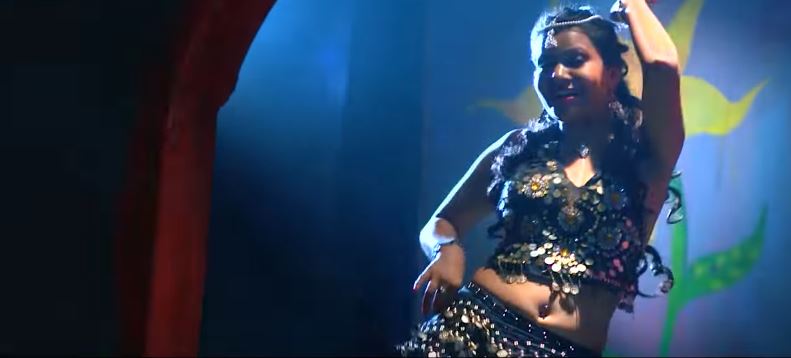 Kya Babal is a New Nepali Item song from Nepali Movie "SURYA". The music video features actor and actress are Mukesh Dhakal and Sujata K.C. Kya Babal is a Nepali song by Swaroop Raj Acharya and Sujata K.C which is directed as well as edited by Kranti K.c.
The music as well as lyrics of this song was composed by Narahari Premi. The music video is featuring by versatile Singer as well as Model Sujata K.C with a new looks. Kya Babal is a Hot Item song. This music video was choreographed by Kranti K.C and Gautam Tandukar.
The music video is released officially online by HighlightsNepal via Youtube. Hope that you will enjoy this Item Song Kya Babal from Nepali Movie.

Here is the lyrics for the song:
Rupanagar ma charcha merai

Rupanagar ma charcha merai
Sahar sahar ma parcha merai
Rupanagar ma charcha merai
Sahar sahar ma parcha merai
Suntali otha mera
Resami cha kapal
Sabai la bhanchan
Sabai la bhanchan
Kya babal
Kya babal
Ara
Kya babal
Kya babal
Ahaa
Kya babal
Kya babal…

Aadha gagro pani sari
Chachal kincha yo mann
hoo
Aadha gagro pani sari
Chachal kincha yo mann
Baluwa ko machi sari
Uphri rancha jhan jhan
Aadha gagro pani sari
Chachal kincha yo mann
Baluwa ko machi sari
Uphri rancha jhan jhan
Koe cha ki suni dina
Koe cha ki suni dina
Dhuka dhuki ko chap
Sabai la bhanchan
Sabai la bhanchan
Kya babal
Kya babal
Ara
Kya babal
Kya babal
Waa
Kya babal
Kya babal
Ara
Kya babal
Kya babal…

Bato hinna batuwa la
Jhibro padhakauchan

Bato hinna batuwa la
Jhibro padhakauchan
Hos harae chalaka la
Sabari thokauchan
Bato hinna batuwa la
Jhibro padhakauchan
Hos harae chalaka la
Sabari thokauchan
Makhai parna
Lathai parna
Makhai parna
Lathai parna
Baisa ko otha ma
Sabai la bhanchan
Sabai la bhanchan
Kya babal
Kya babal
Ara
Kya babal
Kya babal
Ahaa
Kya babal
Kya babal
Ara
Kya babal
Kya babal…