Nabirse Timilai By Anju Panta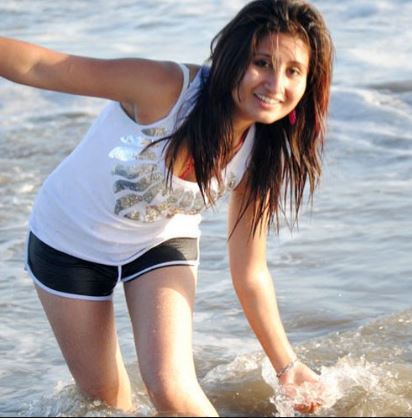 Nabirse Timilai is a most viewed Nepali Song by Anju Panta who is one of the best Nepali female singer of this era. The lyrics for this music video is composed by Bipin Kiran and Music is composed by Mahesh Khadka.
After the release of her this Gazal "Na Birse Timilaai, Na Paye Timilai…" which became so popular among Nepalese all over the world. She gave her melodious voice to hundreds of Nepali songs.
The music video is released officially online by Hemanta Baral via Youtube. Hope that you will enjoy this Meldious Songs by Anju Panta.
Here is the Lyrics for this song:
Nabirse Timilai
Na Paya Timilai ho…

Nabirse Timilai
Na Paya Timilai
Nabirse Timilai
Na Paya Timilai
Bina Artha Dil Ma Sajaye Timilai
Bina Artha Dil Ma Sajaye Timilai

Nabirse Timilai
Na Paya Timilai
Bina Artha Dil Ma Sajaya Timilai
Bina Artha Dil Ma Sajaya Timilai…

Tyo Yatra Sunaulo
Tyo Yatra Sunaulo
Tyo Yatra Sunaulo

Tyo Yatra Sunaulo
Ani Saath Timro Ho
Tyo Yatra Sunaulo
Ani Saath Timro
Samjhera Bhetna Bolaye Timilai
Samjhera Bhetna Bolaye Timilai
Nabirse Timilai
Na Paya Timilai
Bina Artha Dil Ma Sajaye Timilai
Bina Artha Dil Ma Sajaye Timilai…

Aayau Samipai Jaba
Timi Nidari Ma
Aayau Samipai Jaba
Timi Nidari Ma
Aaaaayau Samipai Jaba
Timi Nidari Ma
Yo Halchal Yo Dhadkan
Sunaye Timilai
Yo Halchal Yo Dhadkan
Sunaye Timilai
Nabirse Timilai
Na Paya Timilai
Bina Artha Dil Ma Sajaye Timilai
Bina Artha Dil Ma Sajaye Timilai….

Ramye Ekai Chin
Ramye Ekai Chin
Ramye Ekai Chin
Ramye Ekai Chin
Pachi Aansu jharyo Ho
Ramye Ekai Chin
Pachi Aansu jharyo
Ani Aansu Puchdai Pathaye Timilai
Ani Aansu Puchdai Pathaye Timilai
Nabirse Timilai
Na Paya Timilai
Bina Artha Dil Ma Sajaye Timilai
Bina Artha Dil Ma Sajaye Timilai…

Bhayo Aas Ritto
Bhayo Aas Ritto
Bhayo Aas Ritto
Bhayo Aas Ritto
Ra Yo Mann Nirasbho Ho
Bhayo Aas Ritto
Ra Yo Mann Nirasbho
Ani Behosimai Karayein Timilai
Ani Behosimai Karayein Timilai
Nabirse Timilai
Na Paya Timilai
Bina Artha Dil Ma Sajaye Timilai
Bina Artha Dil Ma Sajaye Timilai…

Anayasai Mero
Anayasai Mero
Anayasai Mero
Anayasai Mero
Dukhyau Zindagi Ma Ho
Anayasai Mero
Dukhyau Zindagi Ma
Pareli Bhijae Bagaye Timilai
Pareli Bhijae Bagaye Timilai
Nabirse Timilai
Na Paya Timilai
Bina Artha Dil Ma Sajaye Timilai
Bina Artha Dil Ma Sajaye Timilai…