Pahilo Prem From Movie SAAYAD 2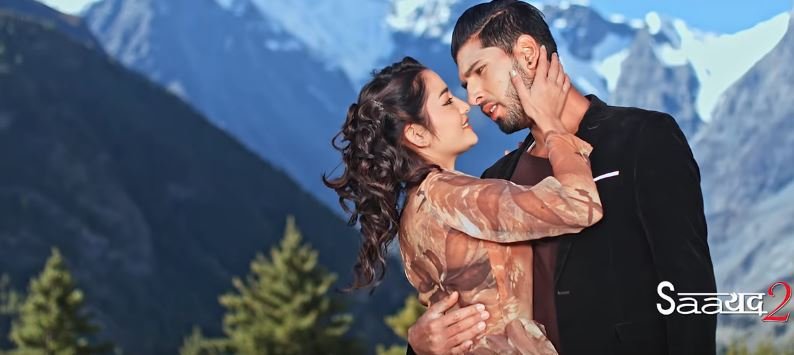 Pahilo Prem is a new Nepali romantic song from movie "SAAYAD 2 ". The music video features actor and actress are Sushil Shrestha and Nisha Karki. Pahilo Prem is a Nepali song by Sugam Pokharel which is directed by Pussparaj T Neupane. Pahilo Prem music video was edited by Prabin Shrestha and was cinematographed by Sushant Prajapati.
The lyrics as well as music for this song was composed by Sugam Pokharel. The movie features versatile actor Sushil Shrestha. He has appeared in numerous music videos, television commercials, print ads and more than a dozen of Nepali movies. He started his Carrier from Nepali movie Hostel Return. The movie is full package of romance, love and hate. This song has explain the important of first love. Hope that this movie will be the Super hit movie of coming year 2017.
The music video is released officially online by HighlightsNepal via Youtube. Hope that you will enjoy this melodious  romantic song Pahilo Prem.
Here is the lyrics for Pahilo Prem:
Jatinai kosis gara
Birsana timro aatita
Chhaya bani base
Ko hunchha redaya bhari
Timi ni hau mero chaha
Swarwassho timi nai priya
Timi mai adhiyeko chha yo
Jiban ko khushi
Pahilo Prem bhuna
Dherai dherai garo hunchha
Dosaro tesro ya antim hos
Pahilo bhane ko
Pahilo nai hunchha
Pahilo prem bhuna
Dherai dherai garo hunchha
Dosaro tesro ya antim hos
Pahilo bhane ko
Pahilo nai hunchha……

Dherai chhan bhanu
Mannka ye kura timilai
Bhanne mero aatai pugadaina
Jasto manchhe sochi
prema garchhau malae
Bastabikta sayad
Timilai thahachina
Satya bolum bhachhu
Boli bhasin chha
Timilai ghumaune
Dar le man mero aatinchha
Pahilo prem bhuna
Dherai dherai garo hunchha
Dosaro tesro ya antim hos
Pahilo bhane ko
Pahilo nai hunchha

Pahilo prem bhuna
Dherai dherai garo hunchha
Dosaro tesro ya antim hos
Pahilo bhane ko
Pahilo nai hunchha…………