Surtima Mohani Layera by Bijay Thapa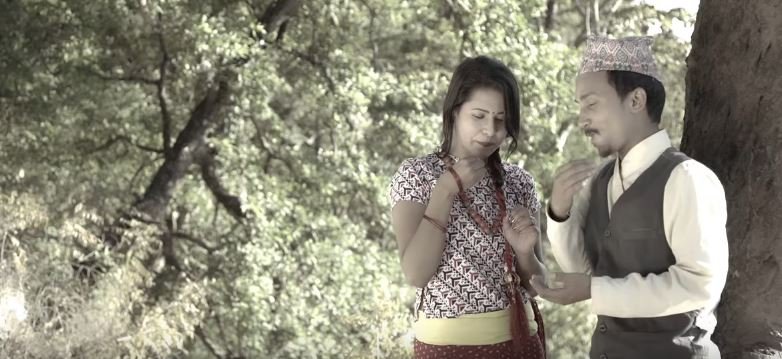 Surtima Mohani Layera is a new Nepali melodious lok pop song from album "My Dream". The music video features Arjun Thapa, Saraswoti Thapa and Ajay Thapa. Surtima Mohani Layera is a Nepali song by Bijay Thapa which is directed by Rajkumar Lamichhane. The music video was Cinematographed by Sulabh Adhikari and was edited by Kumar Shah.
The music for this song was composed by Kalyan Singh and lyrics was written by Ramesh Dahal. The vocal in this song was given by Innovative, energetic and multidimensional young singer Bijay Thapa. In this song, he want to show the flash back of our grandfather and grandmother love story. When you once listen this song, I am sure you will not forget to like and share this music video with everyone. Overall, Bijay Thapa's Surtima Mohani Layera is a nice and soothing song with great melody.
The music video is released officially online by SongsNepal via Youtube. Hope that you will enjoy this melodious lok pop song Surtima Mohani Layera.
Here is the lyrics for Surtima Mohani Layera:
Surtima Mohani Layera
Baje la aamai bhagaya
Rumalma makai satera
Buba la aama fakaya
Aafu ta pareyo bisnu
Ra thito maiya lai
Dhekdai lobhiya kaha
Po dhekhaunu lajalu
Rup Tharpenu tarpeyaa
Tharpenu tarpeyaa
Tharpenu tarpeyaa…..

Haata ma jada herakai
Bhar ma uhela perati
Lautheyaa mela bhar
Da mann la khada
Sapla aakha judautheya

Haata ma jada herakai
Bhar ma uhela perati
Lautheyaa mela bhar
Da mann la khada
Sapla aakha judautheya
Aahela ko pare aafu ta
Thito mann peta
kholna po darayaa
kaha Po dhakhum lajalu
Rup Tharpenu tarpeyaa
Tharpenu tarpeyaa
Tharpenu tarpeyaa…..

Otha la bolna nasaka
Pani mann ma maya huntheyo ra
Ek sarko surti khana lai
Pani vetum vetum huntheyo ra

Otha la bolna nasaka
Pani mann ma maya huntheyo ra
Ek sarko surti khana lai
Pani vetum vetum huntheyo ra
Samayala bhito katacha kara
Tasari aba huna ra
Kaha Po Dhakhum lajalu
Rup Tharpenu tarpeyaa
Tharpenu tarpeyaa
Tharpenu tarpeyaa
Tharpenu tarpeyaa
Tharpenu tarpeyaa…………