Timro bhayek aru From Movie RUDRAPRIYA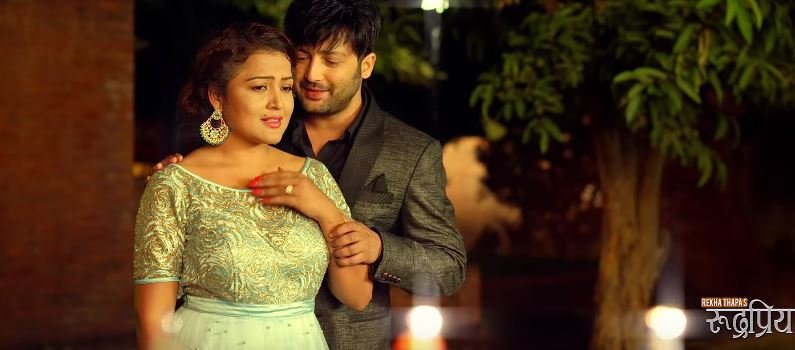 Timro bhayek aru is a Nepali Melodious romantic song from the New Nepali Movie "RUDRAPRIYA". The music video features actor and actress are Rekha Thapa, Aryan Sigdel and Rajan Ishan. Timro bhayek aru song is a Nepali song by Sanoop Poudal and Anju Panta. The music video is directed by Sudeep Bobbie and Bhupal Singh and was choreographed by Prabin Singh.
The music for this song is composed by Arjun Pokharel and lyrics was written by Ambika Sharma. The music video features versatile actress Rekha Thapa. Rekha Thapa is known as Nepali actress, model and film maker. She has worked in more than 100 Nepali movies and has gained popularity in the Nepali cine world because of her glamorous role. She was supported by another handsome actor Aryan Sigdel. After 6 year they have back in same movie. Timro bhayek aru is a romantic music video which was presented by Rekha Films. The music video was arranged by Babu Pradhan and was choreographed by Pravin Singh. I assure you people will love the music and tune repeatedly once after you hear it.
The music video is released officially online by Budha Subba Digital Pvt Ltd via Youtube. Hope that you will enjoy this romantic song Timro bhayek aru.
Here is the lyrics for Timro bhayek aru:
Timro bhayek aru
Ko chha ra maela line nau
Timro satha bina kaha chha
Ra maela bachana thau

Timro bhayek aru
Ko chha ra maela line nau
Timro satha bina kaha chha
Ra maela bachana thau
Duniya tetai chodera
J theya badha todhera
Aye timi sangai mann
Mutu todhera
Yestai yestai hos
Timro maya Na pheriyos
Timro maya ma jindagi
Bitauna paau jaela
Yestai yestai hos
Timro maya Na pheriyos
Timro maya ma jindagi
Bitauna paau jaela…..

Bhetina bahne kunai pal
Dhekhina bahne kunai pal
Dar le yo mann dhukhacha priya
Mann ma rakhachu bannu pardaina
Aakha ma rakhachu bannu pardaina
Timro satha bhaye pugacha
malae pugacha priya
Yestai yestai hos
Timro maya Na pheriyos
Timro maya ma jindagi
Bitauna paau jaela
Yestai yestai hos
Timro maya Na pheriyos
Timro maya ma jindagi
Bitauna paau jaela………

Jiban ko aasha timi hau
Mann ko bharosa timi hau
Timi bhayek aru khas chaena
Khusi satne pani timi hau
Juni katne pani timi hau
Bho aru kasai ko bisawas
Chaena chaena
Yestai yestai hos
Timro maya Na pheriyos
Timro maya ma jindagi
Bitauna paau jaela
Yestai yestai hos
Timro maya Na pheriyos
Timro maya ma jindagi
Bitauna paau jaela……………