Timro Roop Dekhera by Himal Sagar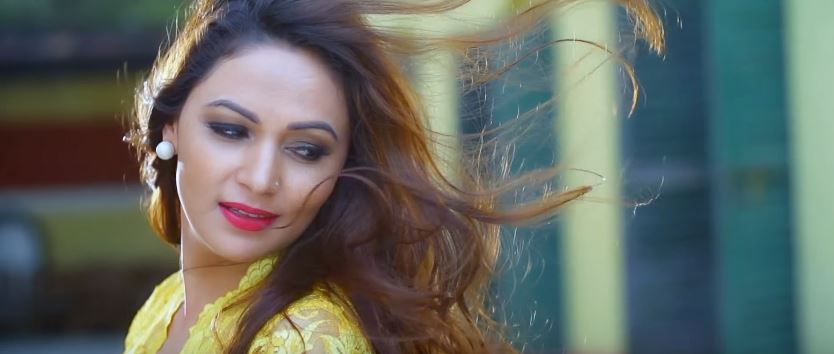 Timro Roop Dekhera is a Nepali Melodious romantic song by Himal Sagar. The music video features Dinesh Karki, Nandita and Himal Sagar. This music video is a Nepali song titled over the beauty of girl which is directed by Arjun Adhikari. Timro Roop Dekhera music video was edited by Nishan Ghimire and was cinematographed by Hari Humagain.
The music for this song was composed by Himal Sagar and lyrics was written by Krisu Chhetri. The music video features hot model Nandita. She is gorgeous, hot, sexy and one of the popular model. She has done numerous music videos. Nandita has performed best in this music video with another artist Himal Sagar and Dinesh Karki. This music video shows romantic love between Dinesh Karki and Nandita. The music video was arranged by Rajeev Shah. If you listen to this song, I am sure you will enjoy the music and words that writer has chosen.
The music video is released officially online by ASIAN MUSIC via Youtube. Hope that you will enjoy this melodious romantic song Timro Roop Dekhera.
Here is the lyrics for Timro Roop Dekhera:
Timro roop dekhera
Timro roop dekhera
Timro roop dekhera
Gajal lekhe ko nasamjha
Batai ma jhamka bhetbho
Tara chheke ko nasamjha
Tara chheke ko nasamjha
Timro rupa dhekhera……..

Herna ta parsasta paeya
Chha pulbhari saharma

Herna ta parshasta paeya
Chha pulbhari saharma
Najar judaima timilai nai
Hereko nasamjha
Hereko nasamjha
Timro roop dhekhera…….

Dudha dine gaeko
Latapani sahiyo kiyara

Dudha dine gaeko
Latapani sahiyo kiyara
Kehi sahadai ma
Taukai ma tekeko nasamjha
Taukaima tekeko nasamjha
Timro roop dekhera…………