Aakhama Timro Aakhama by Praraj Poudel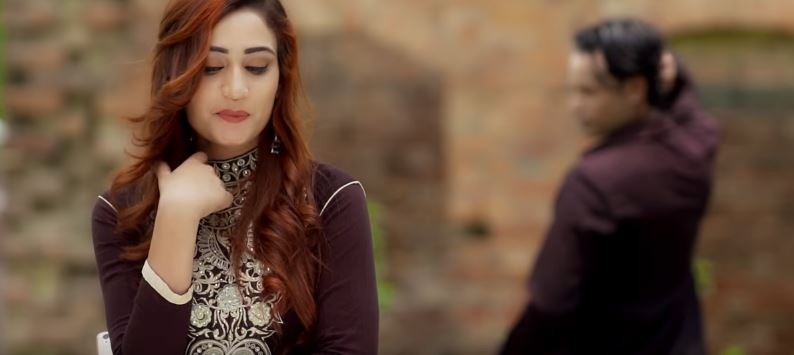 Aakhama Timro Aakhama is a new Nepali pop song by Praraj Poudel. The music video features Shristi Khadka and Praraj Poudel. Aakhama Timro Aakhama is a Nepali song about love and feelings towards love which is directed by Anup Limbu. The music video was edited by Lalit Singh Saud and cinematographed by Shovakar Pokharel.
The music as well as lyrics for this song was written by Nil Gurung and music video was arranged by Aadesh Gurmachhun. The music video features beautiful and versatile model Shristi Khadka. She has appeared in numerous music videos, television commercials and print ads. She is one of the established model of Nepali music video industry. In Aakhama Timro Aakhama music video, we can see that is caused by eyes and smile. This music video also remember us that eyes is the attractive things of human body parts. Here, the model as well as singer want to stay in Shristi Khadka with lots of dreams. This music video was choreographed by Gaurav Giri. If you once watched this music video then believe me, you will feel more love towards your love.
The music video is released officially online by SongsNepal via Youtube. Hope that you will enjoy this Melodious pop song Aakhama Timro Aakhama.
Here is the lyrics for Aakhama Timro Aakhama:
Aakhama Timro Aakhama
Dubhe saka harai saka
Dubhe saka harai saka
Ma ta pagal vaye
Aabar badal vaye
Timro aakha ko
Kalo gajal vaye
Ma ta pagal vaye
Aabar badal vaye
Timro aakha ko
Kalo gajal vaye
Aakhama Timro Aakhama
Dubhe saka harai saka
Dubhe saka harai saka….

Timro maya mero
Nimte bachane aadar vayo
Timro jiban mero nimte
Uphar vaye deyo

Timro maya mero
Nimte bachna aadar vayo
Timro jibin mero nimte
Uphar vaye deyo
Manna ma timro
Maana ma dubhe saka
Haraye saka dube
Saka Harayesaka
Ma ta pagal vaye
Aabar badal vaye
Timro aakha ko
Kalo gajal vaye
Ma ta pagal vaye
Aabar badal vaye
Timro aakha ko
Kalo gajal vaye
Aakhama Timro Aakhama
Dubhe saka harai saka
Dubhe saka harai saka….

Phool samjhe choye deya
Kada timi navaye dinu
Jiban timilai nai
Sumpiye tada timi
Navaye dinu

Phool samjhe choye deya
Kada timi navaye dinu
Jiban timilai nai
Sumpiye tada timi
Navaye dinu
Maya ma timro mayama
Dubhe saka harae saka
Dubhe saka harae saka
Ma ta pagal vaye
Aabar badal vaye
Timro aakha ko
Kalo gajal vaye
Ma ta pagal vaye
Aabar badal vaye
Timro aakha ko
Kalo gajal vaye……………