Timro Manche Ma By Dibya Subba and The BlueAcidz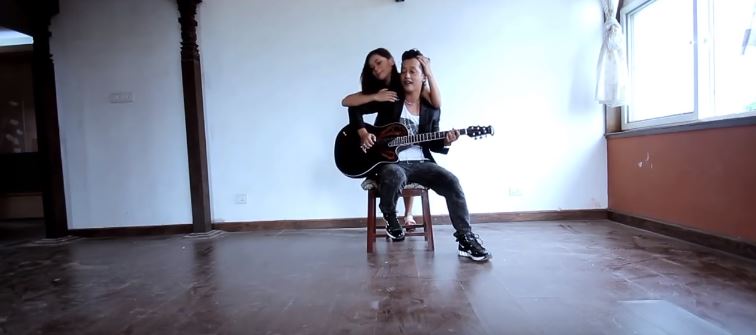 Timro Manche Ma is a New melodious Nepali pop song by Dibya Subba and The BlueAcidz. This song is from album "Dibya Subba and The BlueAcidz". In this song Flute was handled by Rubin (Kutumba) and Bass by Rohit (Jindabad).
The music video of this song is recorded at REC studio and mixing. Music and lyrics of this song was written by Dibya Subba and BlueAcidz. The song was about the love between boy and girl who love each other. The singer describe his girls beauty along with his dedication towards his love. Dibya Subba is one of the great artist in the nepalese music industry. He started as a solo artist. Later he joined with (The BlueAcidz). They have been playing together for more than 4 years.So,They decided to work together for my new album.And after work for 1 yrs, finally they released their complete album "Dibya Subba & The BlueAcidz." which was released on 2011 Feb. The song is interesting and melodious because of the good combination of lyrics and music. I suggest you guys to watch this song , you will really love it.
This song was published officially online by Dibya Subba via Youtube. Hope that you will enjoy this Melodious pop Song.
Here is the lyrics for the song:
Jiwan var timlai saath
Dine manche timro ma…
Sukha hos ya dukhai hos
Timro lagi marne ma
Sapana timro mero eutai nai ho
Hamro sundar vabishyako
Ho….Ho….O…O…..O…O..

Jiwan dherai lamo cha
Eklai jiunalai..
Maya paye vane timro
Bitcha dui palmai
Pabitra cha mero maya
Yo sangeet jastai..
Samarpit garchu ma timlai
Jasari yo sangeetlai…
Sa…Ni…Dha…Pa…
Ma…Ga…Re…Sa…
Sa…Ni…Dha…Pa…
Ma…Ga…Re…Sa…

Timro manche ma……
Timro manche ma……
Timro manche ma……
Timro manche ma……

Jiwan dherai lamo cha
Eklai jiunalai..
Maya paye vane timro
Bitcha dui palmai
Pabitra cha mero maya
Yo sangeet jastai..
Samarpit garchu ma timlai
Jasari yo sangeetlai…
Sa…Ni…Dha…Pa…
Ma…Ga…Re…Sa…
Sa…Ni…Dha…Pa…
Ma…Ga…Re…Sa…
Timro manche ma……
Timro manche ma……
Timro manche ma……
Timro manche ma……
Timro manche ma……
Timro manche ma……
Timro manche ma……
Timro manche ma……

Jiwan var timlai saath
Dine manche timro ma…