Aankha Aankha by Nimesh Subba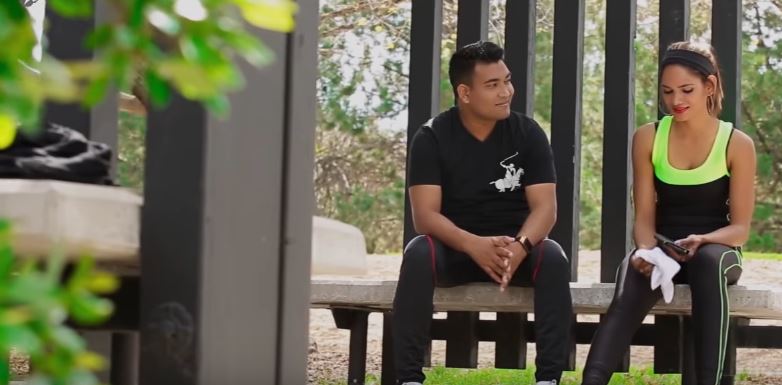 Aankha Aankha is a new Nepali modern pop song by Nimesh Subba. The music video features Dilip and Kalpana. Aankha Aankha is directed by Mani Kumar Kakikotay. The music video was edited as well as cinematographed by Dadhi (USA).
The lyrics as well as music for this song was written by Ramesh Shrestha. The music video features hot model Kalpana. Aankha Aankha is a romantic music video where we can see romance between Dilip and Kalpana. This song deliver the message that one smile can start a friendship, one look can change the friendship into love and that person change the your life. Here the one look of kalpana change the lifestyle of Dilip. When you once listen this song, I am sure you will keep repeating it.
The music video is released officially online by SongsNepal via Youtube. Hope that you will enjoy this melodious pop song Aankha Aankha.
Here is the lyrics for Aankha Aankha:
Aankha Aankha hoo
Aankha Aankha judyo
Keyare bhanna sakdina

Aankha Aankha hoo
Aankha Aankha judyo
Keyare bhanna sakdina
Sachai maya basyo Keyare
Ma bhanna sakdina
Sachai maya basyo Keyare
Ma bhanna sakdina
Ma bhanna sakdina
Aankha Aankha hoo
Aankha Aankha…..

Jiban rupe bhela haru
Ma tarna sakdena
Jiban rupe bhela haru
Ma tarna sakdena
Katai bhagae lane hoki
Katai bhagae lane hoki
Ma bhanna sakdina
Ma bhanna sakdina
Aankha Aankha hoo
Aankha Aankha judyo
Keyare bhanna sakdina
Sachai maya basyo Keyare
Ma bhanna sakdina
Sachai maya basyo Keyare
Ma bhanna sakdina
Ma bhanna sakdina
Aankha Aankha hoo
Aankha Aankha…..

Hawa sanga chari bane
Ma udhana sakdena
Hawa sanga chari bane
Ma udhana sakdena
Katai udae lana hoki
Katai udae lana hoki
Ma bhanna sakdina
Ma bhanna sakdina
Aankha Aankha hoo
Aankha Aankha judyo
Keyare bhanna sakdina
Sachai maya basyo Keyare
Ma bhanna sakdina
Sachai maya basyo Keyare
Ma bhanna sakdina
Ma bhanna sakdina
Aankha Aankha hoo
Aankha Aankha…….

Jindagi ma khel hunchha
Ma jitna sakdena
Jindagi ma khel hunchha
Ma jitna sakdena
Katai aamar huna hoki
Katai aamar huna hoki
Ma bhanna sakdina
Ma bhanna sakdina
Aankha Aankha hoo
Aankha Aankha judyo
Keyare bhanna sakdina
Sachai maya basyo Keyare
Ma bhanna sakdina
Sachai maya basyo Keyare
Ma bhanna sakdina
Ma bhanna sakdina
Aankha Aankha hoo
Aankha Aankha……………