All Is Well Review and Box Office Collection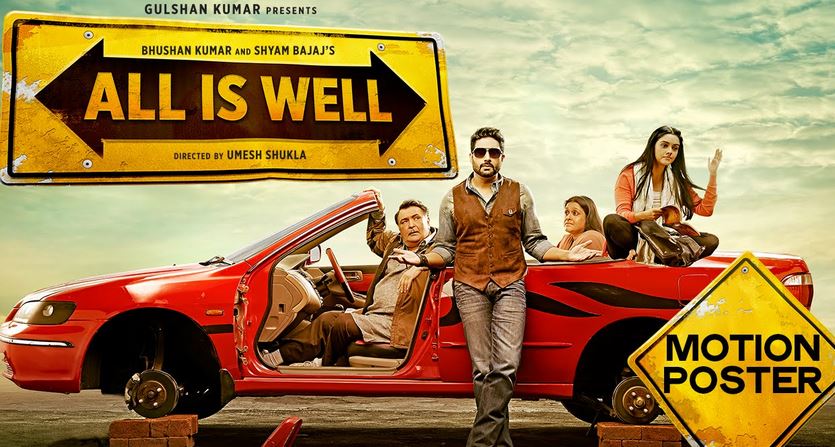 Abhishek Bachchan has come back as a solo hero after a long time with the movie called "All is Well", which released on 21st August, 2015. Though the name of the film has been derived from the lyrics of a super hit song from the super hit movie "3 Idiots", it has not even a miniscule of entertainment value coming from its name. Besides Abhishek Bachchan, the movie has a good star cast comprising of Asin, Rishi Kapoor, Supriya Pathak and Zeeshan Ayyub. "All is Well" has been directed by Umesh Shukla and it would not be wrong to say that it has been one of the most directionless and absurd movies that Bollywood has witnessed in the recent past.
The Plot
"All is Well" is the story of a young singer Inder Bhalla (Abhishek Bachchan) who resides in Pattaya and is struggling to find his footing in the music industry. his parents Mr and Mrs Bhalla, played by Rishi Kapoor and Supriya Pathak, reside in a small hill town called Kasol, where Mr Bhalla owns a small bikini. Nimmi (Asin) plays the love interest of Inder and she comes from a Sikh family in Bangkok. Inder is coaxed by a music director to sell his music for some others singer but he is not willing to part with his music. On the other hand, his parents are being troubled by a local goon Cheema (Zeeshan Ayyub) and they are waiting for their son to come back to India and rescue them from their troubles. The film meanders through its aimless plot and seems quite tricky for the audience to make out. Sonakshi Sinha appears for a cameo in the movie but that too does nothing to act as a saving grace.
The Performances
Though the star cast of "All is Well" seems superficially impressive, but none of them have done a good job. Actually, the plot itself is so weak that it leaves nothing to be done. Abhishek Bachchan looks confused throughout the movie, while Rishi Kapoor and Supriya Pathak are miserable in feigning their comic roles as a middle aged man suffering from polyuria and a woman having Alzheimer's disease, respectively. Asin too has done no wonders in the movie. Overall, the film lacks in every respect, acting, direction, music and editing and it appears as a total waste of time. The audience will definitely leave the cinema hall irritated at the end of the ordeal. No wonder, the move has earned only one star out of five from the critics.
Box Office Collection
Nothing is going well for "All is Well" at the box office as the movie has miserably failed to impress the audience. It has been released along with "Manjhi the Mountain Man", which too, has not garnered impressive collections but has been appreciated for the performances and direction. The opening collection of "All is Well" was a poor Rs 2.9 crore while the second day was a bit better with a collection of Rs 3.98 crore, taking the total of first two days to only Rs 6.88 crore.