Allarey Jovan (Audio) by Bipul Chettri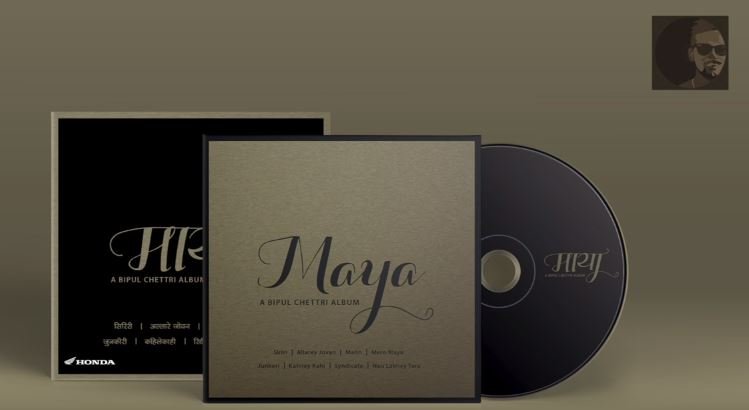 Allarey Jovan is a Nepali lok pop song by Bipul Chettri from album "MAYA". The song has Pranai Gurung on guitars, Prabir Sekhri on keys/melodica, Reuben Narain on drums, Rahul Rai on bass and Kiran Nepali on sarangi. Sonam Tashi is the executive producer  of the song.
The song is written, composed and arranged by Bipul Chettri. The innovative, energetic and multidimensional young singer Bipul Chettri has contributed his voice in lots of Nepali Songs with Lok pop genre. Bipul Chettri is originally from India(Darjeeling). This song allarey describes the conflicts to give his allareypan to whom. Album Cover Layout & Design is contributed by Nima D.T. Namchu & Sidhu Gurdev whereas the official album partner is Honda Nepal.   The song is mastered by Pete Maher, Top Floor Productions which is located in London, U.K. Give a listen to this song right away, I am sure you will keep repeating it.
The audio song is released officially online by Bipul Chettri via YouTube. Hope that you will enjoy this melodious lok pop song Allarey Jovan.

Here is the lyrics for Allarey Jovan:
Heyy..
Gaudhali chari
Gaudhali chari mero
Mana ki para aaja
Jata bhagechha
Hmmmm..
Wari pari ko hariyali hera
Aaja kata maajhechaa
Heyy..
Salalala bagirahne
Kalalala kheli rahne yo tista khola
Hmmmm..
Bageko nai dekhina dahina yo
Kasto yo bela
Allare yo jovana
Kasalai dine yo mann
Allare yo jovana
Kaslai dinne yo mann hey
Heyyy!….

Paunu taha yaha dheraii
Lauunu taha yaha dheraii
Maya na paune
Dui dinn ko yo jindagi ma nai
Kati piraune
Hey heyyy
Linne taha yaha dherai
Dinne taha yaha thoraii
Kasari pugne
Laagera janu kahile chhaina saathi
Kati thuparne
Allare yo jovana
Kasalai dine yo mann
Allare yo jovana
Kaslai dinne yo mann hey!….

Sital sital hawa bagyo maanai rahar
Aaune dinaharu kasto hola thahae chhaina
Maan ma kasa kasto kura haru kheli rahanchha
Astitwa khoji rahe aajasamma paye chhaina….

Hey heyyy
Mann ko kura haru mann mai rahyo
Kasailai ma k bhanu
Sanjhako maya payeko chhaina
Kasailai ma k sodhu
Hey heyyy
Charaii tira chalala kanchanjunga himalale
Dhakyo sansara
Paharama pani shanti nai chhaina
Chari joo haina ki moh ta tala
Allare yo jovann
Kasalai dine yo maan
Allare yo jovann
Kasalai dine yo maan
Allare yo jovann
kasalai dine yo maan
Allare yo jovann
Kasalai dine yo maan
Allare yo jovann
Kasalai dine yo maan
Allare yo jovann
kasalai dine yo mann