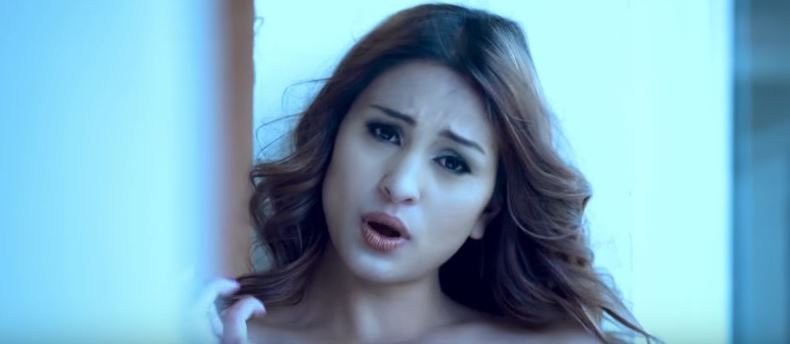 Ankhaima is a New melodious Nepali pop song by Namrata Rai. The music video features by Anu Shah and Birla. Ankhaima is a Nepali song by Namrata Rai which is directed by Nikesh Khadka. Ankhaima music video was edited by Bharat Regm and music video is Cinematographed  by Utsav Dahal.
The music video of this song is arranged by Debesh Rai and music of this song was composed by Debesh Rai himself. The music video is featuring by versatile actress Anu Shah with a new looks. Anu Shah has established herself as a successful model who has played the lead role in this music video. Ankhaima song is very interesting, delightful and informative too. Ankhaima song is based on love, romance and emotion between Anu Shah and Birla. When you once listen this song, I am sure you will keep repeating it.
The music video is released officially online by SongsNepal via Youtube. Hope that you will enjoy this melodious pop song Ankhaima.

Here is the lyrics of Ankhaima:
Ankhai ma tasbir
Lukeko chha
Timro mutu ma maya
Basako chha
Ankhai ma tasbir
Lukeko chha
Timro mutu ma maya
Basako chha
Malae rakhi dau na
Mann ko kuna ma
Yo jiyan aljhi rakhako
Chha timro paso ma
Malae rakhi dau na
Mann ko kuna ma
Yo jiyan aljhi rakhako
Chha timro paso ma…..

Mohani le ho
Kae k le ho
Ajakal mann pitikai
Chaena asthir ma
Kasam lai paye afno saman
Yo jiyan kaela pani
Hunna pir ma

Mohani le ho
Kae k le ho
Ajakal mann pitikai
Chaena asthir ma
Kasam lai paye afno saman
Yo jiyan kaela pani
Hunna pir ma
Jiwan ko bhar chaena
Bholi k thaha
Afno thanna ma
Chhu hera yeta
Tasaile rakhi dau na
Mann ko kuna ma
Yo jiyan aljhi rakhako
Chha timro paso ma
Malae rakhi dau na
Mann ko kuna ma
Yo jiyan aljhi rakhako
Chha timro paso ma…..
Chaye din hos
Ya raat hos
Ma dhekhi rahanchu
Timrai sapana
Harak pal ma
Harak chand ma
Ma gari rahanchu
Timro kalpana

Chaye din hos
Ya raat hos
Ma dhekhi rahanchu
Timrai sapana
Harak pal ma
Harak chand ma
Ma gari rahanchu
Timro kalpana
Chaena aru kae baki kura
Timlai paye huncha
Mero Sapana pura
Mann ko kuna ma
Yo jiyan aljhi rakhako
Chha timro paso ma
Malae rakhi dau na
Mann ko kuna ma
Yo jiyan aljhi rakhako
Chha timro paso ma
Malae rakhi dau na
Yo jiyan aljhi rakhako
Malae rakhi dau na
Yo jiyan aljhi rakhako………