Baaghi Review and Box Office Collections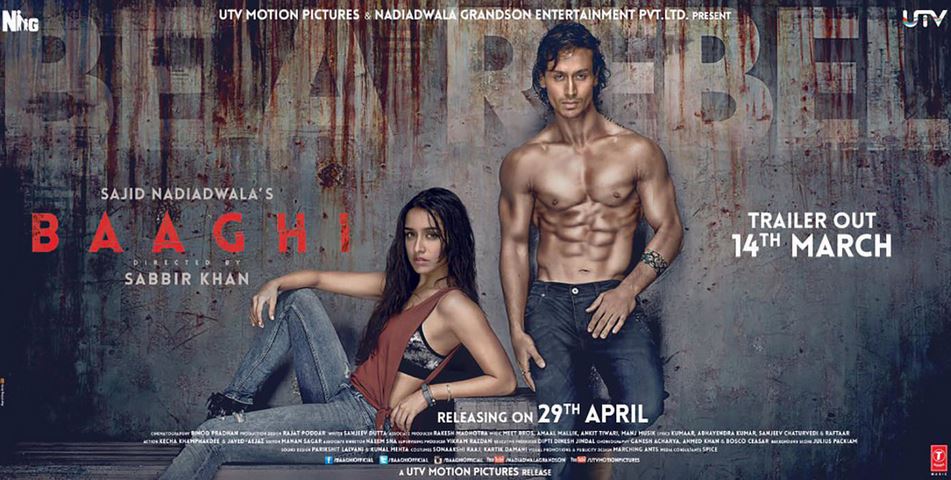 Baaghi is the new Hindi Romantic Action Movie released on April 29. The movie has been produced by Sajid Nadiawala under the banner Nadiawala Grandson Productions. The movie was highly anticipated for the action sequences and glamorous avatar of Shraddha Kapoor. The movie is directed by Sabbir Khan. The movie stars Tiger Shroff, Shradhha Kapoor and Sudheer Babu in pivotal roles.
Plot
The story revolves around flashback and the present time. The story begins with Sia (Shraddha Kapoor) is kidnapped by Raghav (Sudheer Babu). Her father PP Khurana (Sunil Grover) kept on visiting some or the other offices to find his daughter out. However, all goes in vein and he finally reached to Ronny (Tiger Shroff). Ronny and Sia were in love in past. They met first time on a train and then in the School of Guruswamy in Kerala. Ronny was called "Baaghi" by his father that means he does not obey to anyone. Sia once gave Ronny a precious ring to Ronny and asked to him keep it with him forever. However, Raghav who was very possessive about Sia came to know about Ronny and asked him to end the relationship. He then planned with Khurana to convince Sia that Ronny has left him. Khurana even showed her a duplicate ring that she gave to Ronny and made her believe that Ronny has betrayed her. On the other side, Raghav killed Guruswamy as he refused to harm Ronny.
The story comes back to the present when Ronny went to Bangkok to find out Sia. He then defeats Viju (Special man of Raghav) and blackmailed to get the location of Sia. He then visits a hospital where Sia was admitted and escape from there. However, Raghav caught them again but they managed to escape and set for India. However, Raghav chases them again and Viju shoot Ronny and throw him to Lake. Later, it was found that Viju did not shoot him and Raghav killed Viju. Ronny returned and killed Raghav as he came to know that he killed Guruswamy as well.
Performance
The best part of the movie was the action and everyone did enough justice to their role. As far as acting is concerned, Shraddhha Kapoor as usual made solid contribution and Tiger Shroff showed enough maturity. However, Sudheer Babu was a special package and was very solid. The direction was good, but the cinematography lacked skills. But overall it is a nice performance. Even though it has been reported that the movie has been allegedly inspired from The Raid: Redemption and Telegu movie Varsham, but the screenplay and the narration made the movie different altogether.
Box Office Collection
The movie opened with good response and made huge progress as the time progressed. After the first week of the release, Baaghi has already collected INR 51 Crores and it is continuing to impress the audience. It would be interesting to see the performance of the movie in the second week.