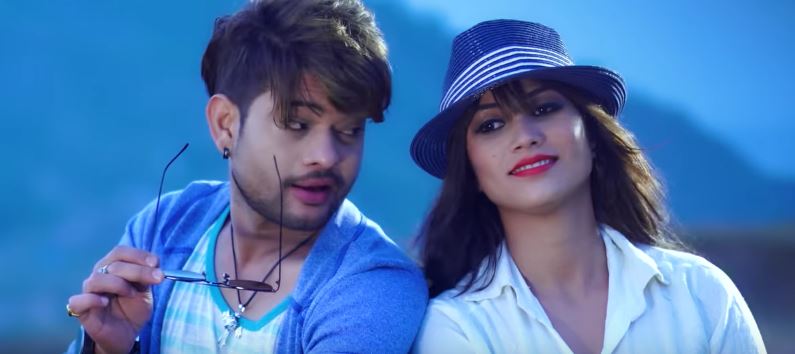 Baja Baja is a new romantic pop song by Sabin Limbu. The music video features K.K. Adhikari And Deepshikha Khadka. This music video is directed by Yubraj Wiba. The music video was cinematographed by Utsav Dahal and edited by Nishan Ghimire.
The music for the song was composed by Raaz Kumar and lyrics was written by sudeep Sapkota. This music video features gorgeous well known model Deepshikha and handsome and talented model K.K. Adhikari. They both have performed in such a realistic way that music video will clearly represents what exactly the song about. Baja Baja is a pop song that express the short love story between K.K. Adhikari And Deepshikha Khadka. Here, K.K. Adhikari is purposing the Deepshikha through the medium of song. When you once listen this song, I am sure you will keep tuning it.
Baja Baja is released officially online by Taja TV via Youtube. Hope that you will enjoy this melodious pop song Baja Baja.
Here is the lyrics for Baja Baja:
Timi meri mann ki rani
Ma hu timro raja
Timi huncha matra bhana
Lehi auchu Baja

Timi meri mann ki rani
Ma hu timro raja
Timi huncha matra bhana
Lehi auchu Baja
Baja Baja Baja
Baja Band Baja
Baja Baja Baja
Baja Band Baja
Baja Baja Baja
Baja lehi Baja
Baja Baja Baja
Baja Band Baja…..

Ba aama lai bhani rakha
Auchu timro haat magna
Baa aama le diyenan bhane
Tayar hau ma saga bhagna

Ba aama lai bhani rakha
Auchu timro haat magna
Baa aama le diyenan bhane
Tayar hau ma saga bhagna
Paelo choti timilai dhekhada
Timi mero lagako theyo
Paelo choti timro lagi
Mann ma maya jhageko theyo
Mann ma maya jhageko theyo
Timi meri mann ki rani
Ma hu timro raja
Timi huncha matra bhana
Lehi auchu Baja
Baja Baja Baja
Baja Band Baja
Baja Baja Baja
Baja Band Baja
Baja Baja Baja
Baja lehi Baja
Baja Baja Baja
Baja Band Baja…..

Sable bhancha timro mero
Jhodi chha re sarai dami
Haat samae ek arka ko
Hinnu parche re hami

Sable bhancha timro mero
Jhodi chha re sarai dami
Haat samae ek arka ko
Hinnu parche re hami
Dherai khusi hune chhu ma
Timilai paye bhane
Khusi bhani timi mero
Jindagi ma ayau bhane
Jindagi ma ayau bhane
Timi meri mann ki rani
Ma hu timro raja
Timi huncha matra bhana
Lehi auchu Baja
Baja Baja Baja
Baja Band Baja
Baja Baja Baja
Baja Band Baja
Baja Baja Baja
Baja lehi Baja
Baja Baja Baja
Baja Band Baja………………