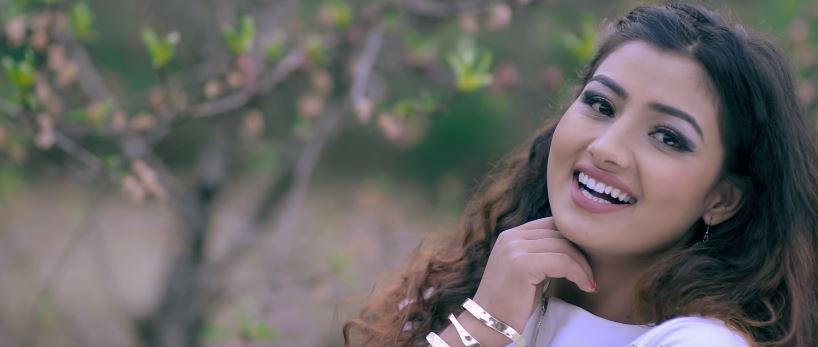 Batuli is a new lok pop song by Sajjan Dhami. The music video features Sajjan, Richa and Khem. Batuli  is directed by Bikram Chauhan. This music video was edited by Rajesh Kumar and cinematographed by Prakash Khadka.
The lyrics for the song was written by Samana Shah and music for this song was composed by Lokendra Shahi. The music video features beautiful and hot model Richa. This music video describes the romantic love between the village girl Batuli and Sajjan. Model Richa appears in this song as a village life lover.  He is beautiful and versatile artist. Sajjan and Richa both have given their best performance to make this enjoyable music video. Batuli music video presented by Wow Nepal. When you once listen this song, I am sure you will keep repeating it.
Batuli is released officially online by Wow Nepal via Youtube. Hope that you will enjoy this melodious lok pop song.
Here is the lyrics for Batuli:
Auchu ma lina timilai
Timrai ghar yespali

Auchu ma lina timilai
Timrai ghar yespali
Banauchu timilai mai rani
Dil mero chha khali
Oe meri batuli batuli
Au basa khakhai ma khakhai ma
Herau li aakhai ma
Au basa khakhai ma
Herau li aakhai ma
Mero Herau li aakhai ma…….

Laijanchu timilai mero acham
DOli ma chadae
Laijanchu timilai mero acham
DOli ma chadae
Mukhiya ba ko eklo choro
Koe chaena daju bhai
Oe meri batuli batuli
Au basa khakhai ma khakhai ma
Herau li aakhai ma
Au basa khakhai ma
Herau li aakhai ma
Mero Herau li aakhai ma……

Kasai le timilai
Nakali bhanchan
Koe bhanchan batuli

Kasai le timilai
Nakali bhanchan
Koe bhanchan batuli
Deu timro joban
Sukha ra dhukha sanga
Sangai katauli
Oe meri batuli batuli
Au basa khakhai ma khakhai ma
Herau li aakhai ma
Au basa khakhai ma
Herau li aakhai ma
Mero Herau li aakhai ma……

Jikaune aakha taneri dekha
K hola kae para
Jikaune aakha taneri dekha
K hola kae para
Dharti ma muhar talkine
TImro akasha ma jun tara
Oe meri batuli batuli
Au basa khakhai ma khakhai ma
Herau li aakhai ma
Au basa khakhai ma
Herau li aakhai ma
Mero Herau li aakhai ma………