Bobby Jasoos Review and Box Office Reports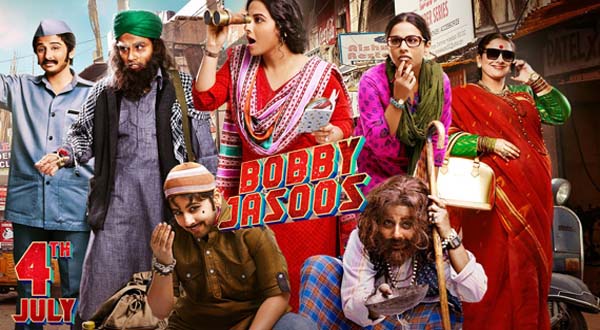 Bobby Jasoos is a romantic-drama/ comedy though there are some moments in the movie when it becomes a mystery movie. Some people tend to think that it is a bit of a confused movie with no clear direction or ending all together. Smar Shaikh who is the director can't just seem to find a way of dealing with the various sub-plots of the Jasoos movie. He just allows them to clash for control. Too much editing doesn't seem to do any good either. Shaikh comes out as putting more focus on visual features of the movie. The pictures have been captured beautifully by the cinematographer.
Bobby Jasoos has to rely on performances to keep it running. Ahiya plays as Shetty, a person who owns a cyber café and fixes computers. Munna plays the role of waiter who assists Bobby to find some work. Both Ahiya and Munna are Bobby's sidekicks and friends, and act as the comic aspects in various scenes in the movie.
Ali Fazal is quite adorable as he plays as Tasawur, a journalist. Supriya Pathak also makes the audience to smile as she makes all efforts to guard the detective dreams of Bobby Jasoos.
There are very many loopholes in the script though which are quite obvious. There is an incongruous title track in the beginning of the movie but all in all it is quite satisfactory. Then there are several songs that seem quite unnecessary. All they do is that they interrupt the flow of the film, though the middle is still interesting.
Then the mystery gets revealed which looks more of a lame excuse as opposed to a closure; at this point, the film comes to an end. Bobby Jasoos film has a terrible climax. It is clearly an ending of a movie; because it has to end anyway. The ending totally fails to serve any purpose.
Bizarre songs, threadbare direction and unorganized sub-plots simply render the Bobby Jasoos movie as very confusing. The cast is very talented which at least makes it worth acting.
Bobby Jasoos is very much supported by Zebo who comes out as a very adoring mother. Pathak acts as Zebo. She is highly criticized by her aunt who wants to arrange a marriage for Jasoos. Her father is very stern and keeps a track of all she does. Bobby has a determination to make her family proud of her by cracking cases. Then she gets hired by Kumar (Anees Khan), a rich stranger who wants her to track young girls. She then gets engaged to Ali Fazal (Tasawur) who is a TV star.
Bobby Jasoos then runs off with Vidya. Bobby Jasoos is both the heroine and hero in the film. Tasawur is then nailed by Ali Fazal who brings out the power of falling in love. Ali for sure makes an impression with his acting skills.
Box Office Collection report

Well as its the first week after the release of Bobby Jasoos managed to collect INR 7 Crore over the weekend.
managed to collect Rs 7 crore over the weekend.
managed to collect Rs 7 crore over the weekend.
managed to collect Rs 7 crore over the weekend.
The question on peoples' mind whenever the Bobby Jasoos movie comes to an end is "where exactly is the ending"? All in all, the movie is interesting and is worth giving it a try to watch!