Bracelet unit took off to Pokhara in search of shooting spot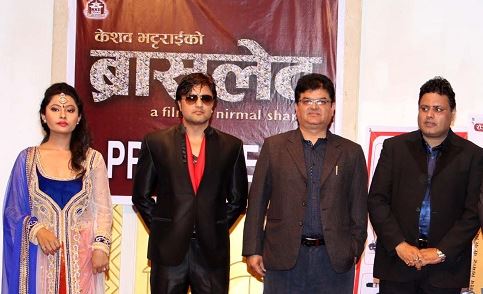 Team of movie Bracelet, which is scheduled to go on the floor from last of Chaitra, have gone hunting of sites for shooting. Although areas around beautiful city Pokhara and Kathmandu valley are to be used as main shooting spots the crews have come out to search beautiful spots inside Pokhara.
Producer Keshab Bhattrai, director Nirmal Sharma (Gaida), artist Kamal Mainali, cameraman Sudip Baral are present in the team. Production unit are planning to give further detailed information regarding the movie by organizing a press meet immediately after returning from Pokhara. Producer Bhattrai said that although all the cast members haven't been finalized yet an informal agreement has been already done.
Namrata sapkota and Rajini KC are going to play the main characters in the movie Bracelet which is of suspense and thriller genre. Jaya Ojha has writen story for the movie. Dipak Sharma and Tara prakash Limbu have given music in film where folk singer Pashupati Sharma has done playback singing for the first time.