Dashain Tihar by Kiran Bimali and Gaurav Darpan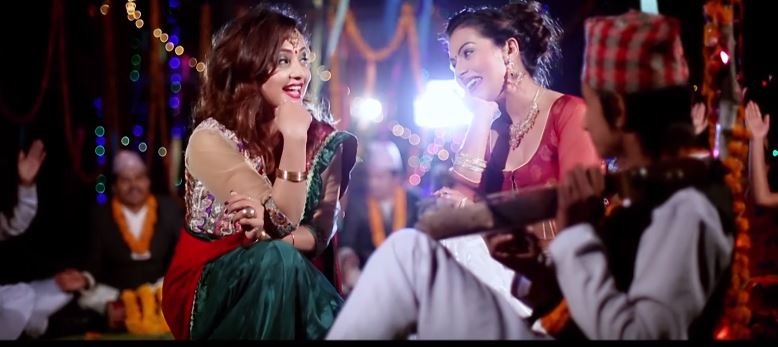 Dashain Tihar is a melodious Dashain & Tihar  song by kiran Bimali and Gaurav Darpan. The lyrics for this song is written by Krishna Udashi and music by Gaurav Darpan. The video is choreographed by  talented Hari Wagle and edited by Nishan Ghimire.
Dashain & Tihar are  the major festivals celebrated by Nepalese Hindu all over the country. This song reflects the festive environment all around the country. The festival falls between the month of Ashoj and Kartik.
This music video is officially released online by Highlights via YouTube. This music video features Charcheet, Deepak, Supriya, Namrata. Enjoy watching this beautiful song by Melina Rai, Pratap lama and Mohan Magar.
The lyrics for this song is:
Ayoo dashain bokera haso
lyaucha khusi metaucha gunaso
Ayoo dashain bokera haso
lyaucha khusi metaucha gunaso
Dashain pachi tihar ko mela
Pohor jastai deusi ma bhetaula
Pohor jastai deusi ma bhetaula
Hai pohor jastai deusi ma bhetaula…

Bhaileni ayeen agana
Badali kudali rakhana
Hey ausi ko dina gai tiharo bhailo

Naya luga lagayera puttali jhai bani
mama ghar jani bhanchin sani nani pani
Fulea jati matrai sundar baan fulyoo bhani
Sansaar sundar bancha
Tara mana fulyoo bhanea
Maana fulyoo bhanea

Maan fulera fakreko bela
Pohor jastai deusi ma bhetaula
Maan fulera fakreko bela
Pohor jastai deusi ma bhetaula
Pohor jastai deusi ma bhetaula
Lau pohor jastai deusi ma bhetaula…

Lalupate godawari fulchan makhamali
Ramauchan gau sahar huncha dipawali
Soubhagya ko sundar mala lauchan daju bhai
Aapar khusi dincha tihar
Didi bahini lai
Didi bahini lai

Gharma bali diyo ra pala
Pohor jastai deusi ma bhetaula
Gharma bali diyo ra pala
Pohor jastai deusi ma bhetaula
lau pohor jastai deusi ma bhetaula
Hai pohor jastai deusi ma bhetaula
Pohor jastai deusi ma bhetaula
Lau pohor jastai deusi ma bhetaula
Pohor jastai deusi ma bhetaula
Save