Dekh Tamasha Dekh – Pre Release Review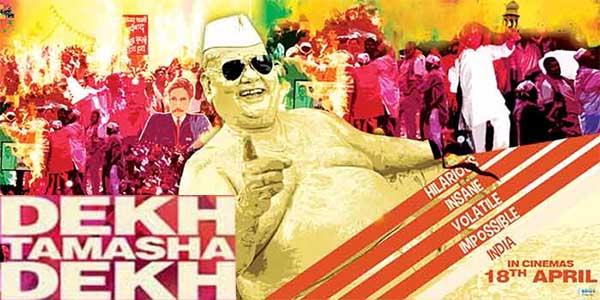 Bollywood Movie Dekh Tamasha Dekh is a  satirical and political satire based on a true story which revolves around the search for the religious identity of a poor man crushed under the weight of a politician's hoarding. The movie is directed by Feroz Abbas Khan and it is produced by Sunil Lulla. The movie is slated for the release on 18th of April 2014. The director is critically acclaimed for the film "Gandhi, My father" which received several National and International Awards. The movie stars Satish Kaushik in the lead role.
The trailer has been released on Eros Now. According to the director, Feroz Abbas Khan says that the film will explore an Incredible India which is impossible to understand, where there are bizarre which seems to be normal and chaos are the cause for the celebration. The religion is depicted funnier the comedy show and politics is scarier than the worst horror movie.
Official Trailer of Dekh Tamasha Dekh

The movie is written by celebrated playwright Shafaat Khan and Hemant Chaturvedi is the cinematographer of the film. It is Eros International and Bombay Local Pictures Production. The movie is based on the true story that revolves around the search for the religious identity of a poor man. Feroz Abbas has even stated that the time to release the movie is ideal since the country is going through the nine-phase polls from April 7. It is the seven years that the director has come up with his second film, "Dekh Tamasha Dekh". For him he says that the release date is very important since the film has to connect the audiences so he says that the movie has the perfect time to be released on the 18th of April.