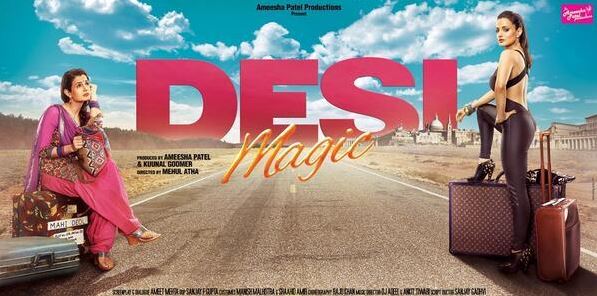 The first ever double role of Amisha Patel on Big Screen, Desi magic churns the magic of her bi-polar twin characters and was released on 23 May 2014. The movie set in the backdrop of a romantic comedy that explorer through the infatuations and love affairs of the twin girls that Amisha Portrays.
She is set to act the role of a well disciplined who hails the culture of her nativity, a Punjabi Girl who is sweet and bubbly at the same time. The other role that she will be playing is that of a urban girl from Budapest who has a strong fetish for black stocking. Amisha plays the sexy Sonia Saxena and the cute Punjabi Mahi Deol, in the movie. Looking sexy and cute in both her roles, Amisha Patel is also the producer of the movie. The movie is the first of the debutant banner, Amisha Patel Productions. Zayed khan unlike his usual Romeo-roles is set to play the role in a new light, of that of a mature man who is wise and gentle to the extremities owing to his wordly knowledge. Sahil Shroff on the other hand is set to play the modern new generation man who lives his life according to his whims and fancies. Also, he shows a deep respect for his job. Set in the backdrop of a firm comical colour, the movie features Ravi Kishan in an important role as well. The movie is prepared to sweep of the fans with its desi mix of romance and comical spices.It also has many heart-rendering moments that would bring incessant tears to the viewers' eyes. The film has been shot in Mumbai and Punjab, in India. After nine years gap, this film features Zyed Khan and Amisha Patel coming together in the same project.
Reviews and Critics:
In reply to the initial release of the posters in February 2014, fans have responding in both hot and cold domains. The production house is the idea and collaboration with her business partner and a close friend Kunaal Goomer.
Start Cast:
Amisha Patel as Sonia Saxena, Amisha Patel as Mahi Deol, Zayed Khan, Sahil Shroff, Randhir Kapoor, Ravi Kishan and Lilette Dubey. The film is produced by Amisha Patel and Kunnaal Goomer while the story is a blend of Dilwale Dulhaniya Le Jayenga, Jab We Met and other romantic comedies akin to it. The film also sees the dubutant music composition of Dj Aqeel along with Lalit Pandit. The direction of the movie is by Mehul Atha. Sanjay Gadhvi writes the story. The choreography and screenplay is by Raju Khan and Ameet Mehta respectively. The music is endorsed by T-series.