Earthquake in Nepal 2015 Video Footage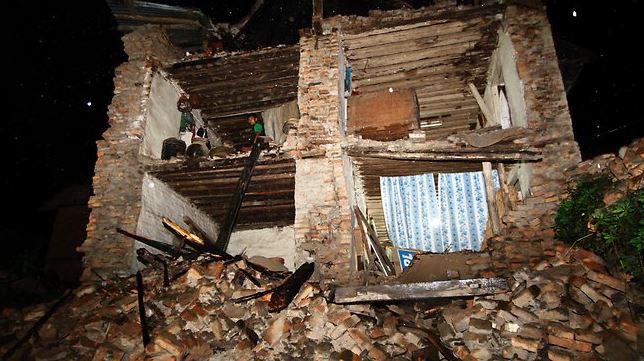 The earthquake that hit Nepal this year at 11:56 Nepal Time on 25th April 2015 is the biggest quake that killed more than 6 thousand people and the death number is counting as the rescue is on going. The earthquake with a magnitude of 7.9 shaking the country for around 1 minute destroyed lot of houses and old buildings and heritage sites in the capital city and other nearby cities.
The Bhimsen Pillar "Dharahara" is no more standing and the temples at Bashantapur no more exist that was driving tourists for awesome views.
There were follow up quakes time to time after this main earthquake and the government of Nepal had declared three days of mourning. Lots of people lost their life and waiting to be rescued after the earthquake.
The rescue operations are still going on and some people are being rescued alive even after 6 days inside the broken houses. We have collected some video footage of the black day in the history of Nepal "Earthquake 2015 – 25th April".
Video 1 : At Tripureshor
Video 2 : Tundikhel Gate

Video 3 : Bhaktapur

Video 4 : Pashupati Area

Video 5 : Bashantapur Area

Video 6 : Everest Base Camp