Ekkaisau Sadi Ki Keti by Aastha B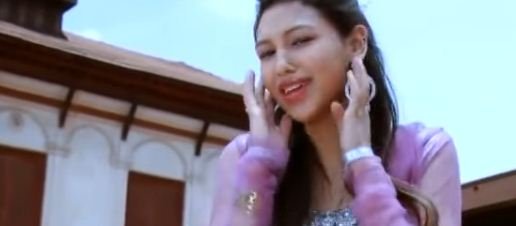 Ekkaisau Sadi Ki Keti is a Nepali Pop song by Aastha B. This music video was cinematographed by Shivaram Shrestha and edited by Lokesh Bajracharya. The lyrics for this song were written by Hari Krishna Baral while music was composed by Hari Lamsal. Ekkaisau Sadi Ki Keti is a beautiful song directed by Srawan Shrestha and Suraj Giri.
Ekkaisau Sadi Ki Keti is a modern song from album "Aastha ko aash". This music video is about a crazy teenage girl and her new love affair. She is crazy, insane and childish little chic who is too hard to handle. Her acts are so cute here. The home production of Aastha Music has wonderfully crafted this music video. I am sure, you guys will love the song and tune repeatedly once after you hear it.
Lyrics for Ekkaisau Sadi Ki Keti;
Ma ta ekaisau sadi ki keti hu
Ma ta kul gharan ki chhori cheli hu
Ma ta ekaisau sadi ki keti hu
Ma ta kulgharan ki chhori cheli hu
Timi malik banchhau bhane
Malai daasi thanchhau bhane
Timi malik banchhau bhane
Malai daasi thanchhau bhane
Timi saga hudaina hudaina pyaar
Timi saga hudaina hudaina pyaar
Timi saga hudaina hudaina pyaar
Timi saga hudaina hudaina pyaar

Ek hatle matra tali bajauna sakidaina
Rang bina kehi kura rangauna sakidaina
Ek hatle matra tali bajauna sakidaina
Rang bina kehi kura rangauna sakidaina

Maya garne vaye aau
Barabar maya garau
Kita dubai sangai bachau
Kita dubai sangai marau
Kita sangai marau

Timi malik banchhau bhane
Malai daasi thanchhau bhane
Timi malik banchhau bhane
Malai daasi thanchhau bhane
Timi saga hudaina hudaina pyaar
Timi saga hudaina hudaina pyaar
Timi saga hudaina hudaina pyaar
Timi saga hudaina hudaina pyaar

Timi euta paila chala
Arko paila ma chalula
Mero aasu timi puchha
Timro aasu ma puchhaula
Timi euta paila chala
Arko paila ma chalula
Mero aasu timi puchha
Timro aasu ma puchhaula

Maya pirati ko khola
Dubai mili sangai tarau
Kita dubai sangai bachu
Kita dubai sangai marau
Kita sangai marau

Timi malik banchhau bhane
Malai daasi thanchhau bhane
Timi malik banchhau bhane
Malai daasi thanchhau bhane
Timi saga hudaina hudaina pyaar
Timi saga hudaina hudaina pyaar
Timi saga hudaina hudaina pyaar
Timi saga hudaina hudaina pyaar