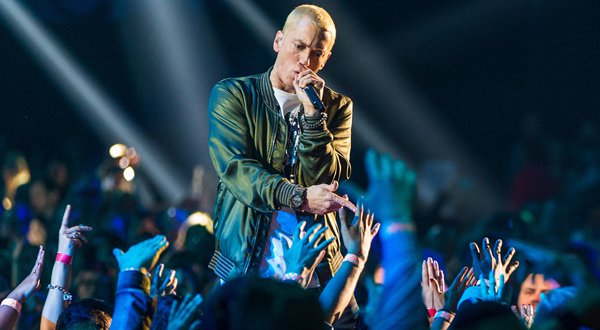 Known for the melodic, rhyming, hip hop rapping style, Eminem have become one of the best-selling musician who have a net worth of around $200 million. Marshall Bruce Mathers III, is the real name of Eminem whose profession is rapper, record producer, songwriter, actor and record producer. Eminem was born on October 17, 1972, in St. Joseph, Missouri. Eminem had a rough childhood as he was raised by a single mother and had to move from one residence to another time and again. Also during his early age, he had to deal with financial problem, family issues, drug and bullying from other kids in his neighborhood. It was a nightmare of having net worth of $200 million for the man who didn't have anything to begin his career. But amazingly his passion for the music become his life changing ticket for earning a lot of money and worldwide fame.
Slim Shady as a nickname for Eminem, he is a multi-platinum and award winning American rapper who is unique for his rhyming words and phrases. In his early age he was always bullied by his African-American neighborhood. He frequently used to fight with his mother because of her suspicious and almost paranoid personality. Eminem had spends three years in ninth grade due to truancy and poor grades, because of which he dropped out from Lincoln High School at the age of 17. From the age of 14, he started rapping with high school friend like Mike Ruby with the adopted names like "Manix" and "M&M" which later evolved into "Eminem". On Saturday, he used to nurture his talent by taking part in freestyle rap battles and open-mic sessions. In the way of increasing his ability, he created a different way of rapping while he was still a teenager. In 1995, Eminem with his rap group along with friends and future D12 member proof, Soul Intent released their self-titled EP. Similarly in 1996 November, Eminem released his first debut studio album titled "Infinite". He traveled to Los Angeles in order to compete in the 1997 Rap Olympics where he ended up being second. Once the staff of Interscope Records sent a copy of Slim Shady EP to company CEO Jimmy Iovine. The CEO played the tape for the record producer Dr. Dre. Dr. Dre reminded, "In my entire career in the music industry, I have never found anything from a demo tape or CD. When Jimmy played the song, I said, 'Find him. Now'". In December 6, 1997 he debut EP, Slim Shady EP was released. His second album "The Slim Shady LP" was released on February 23, 19999, making the album to be on number 2 on the US Billboard 200 chart. In the first week of the release of the album 283,000 copies were sold. The sale of the album helped to increase his net worth. The album made him to win Grammy Award for Best Rap Album and in 2012, the album was ranked on number 275 on Rolling Stone Magazine's list of the 500 greatest albums of all time. He in 2000, released his greatest studio album "The Marshall Mathers Lp" which sold 1,760,000 copies in the release of the first week. The album was 11x platinum certified by RIAA. Similarly in 2002, he released the best-selling album of 2002 titled "The Eminem Show" selling 7.6 million copies. The album again made him to win the award for Best Rap Album at Grammy Award. Apart from his rapping career, his first debut movie "8 Mile" was released earning $242 million dollars from $41 million dollar film making budget. The release of the movie also helped his net worth to sky rocket. After the decade of the release of the movie Vibe Magazine entitled the movie as "rap movie masterpiece". He had released other masterpiece albums like "The Re-Up", "Relapse", "Encore", "Relapse: Refill", "Recovery" and "Marshal Mathers LP2". Eminem has been the only rapper to win two diamond certified albums.
Till now, Eminem had made 45.1 million dollar through album sales, 42 million from tracks and 31 million from certification on digital single make up. With releasing his own album, Eminem has collaborate with a lot of artist including Rihanna, Chris Brown, Sia, Dr. Dre, Akon, Adam Levine and many more. About his asset Eminem owns, he has a $5 million worth mansion on Michigan which has six bedrooms and nine bathrooms. He also owns a cars including a Hummer H2 and a Cadillac Escalade. According to Forbes, he had earned $31 million in 2015. As being the solo artist, he has sold over 45 million records and 40 million digital downloads. The other reasons for his huge net worth is through the world music tour and his live performance. Famous of controversial lyrics and a talented artist Eminem will continue to be one of the highest earners in music year in and year out. With a net worth of $200 million dollar, Eminem is and will remain as one of the richest entertainers on the planet.
Things to know about Eminem
Full Name: Marshall Bruce Mathers III
Date of Birth: 17th October, 1972
Eminem in Facebook: 89M Fans on Facebook
Eminem in Twitter: 21.7M Followers on Twitter
Eminem in Instagram: 15.6M Followers on Instagram
Eminem Net Worth: $190 Million