First look of Thamel dot com released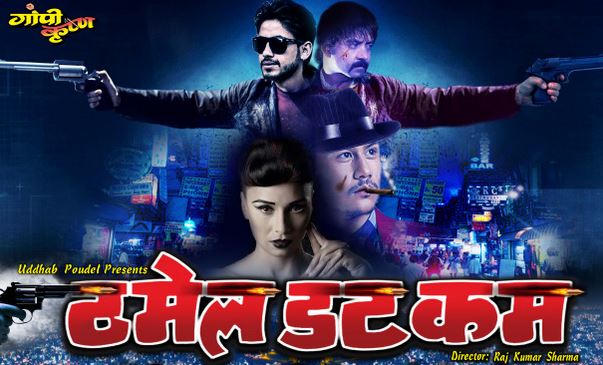 The first look of the movie Thamel dot com has been released on Monday by the film unit. With the release of the poster the movie has also gone on the floor. Anup Bikram Sahi, Pramod Agrahari, Naren Khadka and Nita Pokhrel who are the main lead in the movie, have been featured in the poster . As the movie is based on the story which takes place around busy location Thamel, a picture of Thamel had also been shown in the background of the poster.
Thamel dot com is being made under the banner of Gopi Krishna movies pvt. Ltd and tells the love-story between two boy and a girl and which takes place in the premises of Thamel. Thamel is a love, romance and action genre based movie and is going to be directed by Raj Kumar Sharma.
N. B. Maharjan is the action director while Basant Sapkota and Arjun Pokhrel are the musician of the film. Dayaram Pandey is the lyricist who has penned the songs present in the movie and singer Rajesh Payal Rai , Mandavi Tripathi, Prahalad Timilisian, Anil Singh have voiced the songs present in the film.
Brajesh khanal has authored the script and dialogues for the movie which is to be invested by Nikita Poudel , Niraj Poudel and Nirak Poudel. Raju Bikram Thapa is the cameraman of the movie and Kabiraj Gahatraj and Govinda Rai are the choregraphers who will direct the dance sequences for the videos of songs for the movie Thamel dot com.