Fulai Fulko Mausam Timilai Trailer released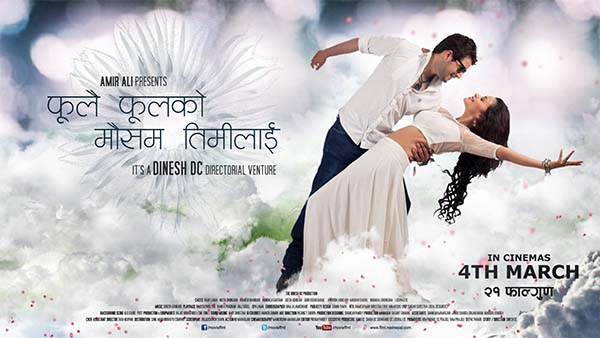 The theatrical trailer of Nepali movie Fulai Fulko Mausam Timilai has been released recently. The Dinesh DC directed film features Vijay Lama, Neeta Dhungana, Aamesh Bhandari, Hunbala Gautam, Geeta Adhikari, Anuroodh Adhikari, Madhav Kharel, Nawaraj Dhungana, Lekhraj DC etc. Dinesh DC's directed movie Chha Ekah Chha was a blockbuster hit in Nepali Movie Industry as the trailer of Fulai Fulko Mausam Timilai looks promising to keep him on his track with another hit movie.
Fulai Fulko Mausam Timilai is a love story movie written by the director Dinesh DC. As the official trailer of Bhuwan KC's Dreams is getting popular among the young generations it seems Dinesh DC has prepared to bang on the Cine Industry with his movie 'Fulai Fulko Mausam Timilai' as the Trailer has got some content with it which definitely can drag the audiences to the Cinema Hall. Also the romantic love story between Aamesh and Neeta gonna definitely attract the Nepali movie lovers.
The movie Fulai Fulko Mausam Timilai is scheduled to release on 4th March, 21 Falgun 2072. The official trailer of the movie is released online by Highlights Nepal.