Ghin Ghin Madal from the Movie Panche Baja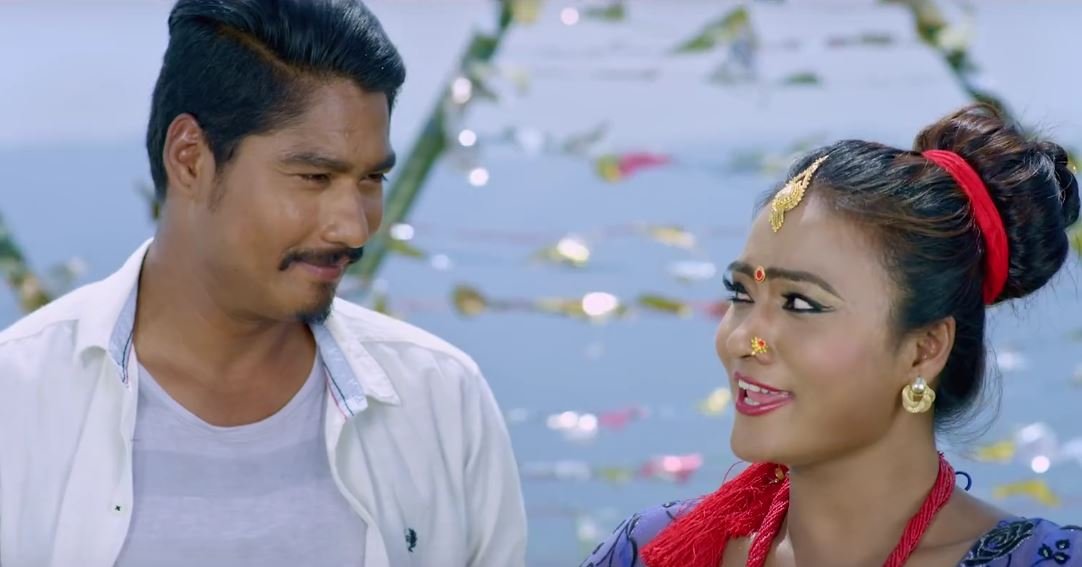 Ghin Ghin Madal is a Nepali romantic song from Nepali Movie "Panche Baja". The music video features actor and actress: Saugat Malla and Jashmin Shrestha. The song Ghin Ghin Madal features Anju Panta and Devid Shankar on the vocals. The music video is choreographed by Kabiraj Gahatraj.
The lyrics of the song is written by Pradip Bhardwaj. Other than the main characters in the movie Saugat Malla, Karna Shayka and Jashmin Shrestha; Buddhi Tamang, Shrijana Subba, Prakash Ghimire, Sabin Bastola, Pramila Tulachan, Bimala Giri, Rajesh Shahi, Yubraj Bhandari and Tej Giri are the few notable artists in the movie. The movie is supposed to be a package of love, romance, heart breaking tragedy, friendship and their terrific outplays.
The music video is released officially online by HighlightsNepal via YouTube. Hope that you will enjoy this song Ghin Ghin Madal.

Here is the lyrics for Ghin Ghin Madal:
Ghin ghin madal
Ghin ghin madal
Murali ko teer
Murali ko teer
Ghin ghin madal
Ghin ghin madal
Murali ko teer
Murali ko teer
Ghin ghin madal
Ghin ghin madal
Murali ko teer
Kasto thau ma dil basyo
Parnu paryo peer
Aahai baribari aahai laribari
Aahai baribari
Khoja khoja Khoja khoja
Dobhan ma khoja
Harayeko timro dil
Obhano ma khoja
Aahai baribari aahai laribari
Aahai baribari……

Jhin pari bardali ma
Makai sukauthin
Malai dekhda lajale
Sirai jhukaithin
Ho..
Jhin pari bardali ma
Makai sukauthin
Malai dekhda lajale
Sirai jhukaithin
Mela paat parba jada
Chhadke aakha lauchhau
Chhori cheli arkaika
Aafnai pewa thanchhau
Aahai baribari aahai laribari
Aahai baribari…..

Duna paat tapari
Sinka hali gasnu
Mari jane joban
Lai lai
Hasi kheli bachnu
ho..
Duna paat tapari
Sinka hali gasnu
Mari jane joban
Lai lai
Hasi kheli bachnu
Dukha pida bhulera
Lai lai
Aajai lai hasnu
Ajampari konai chhara
Aajai maya saatnu
Aahai baribari aahai laribari
Aahai baribari
Asar ko pandhra dahi chiura khane
Sawune pandhra khir
Sawune pandhra khir
Asar ko pandhra dahi chiura khane
Sawune pandhra khir
Kasto thau ma dil basyo
Parnu paryo peer
Aahai baribari aahai laribari
Aahai baribari
Khoja khoja Khoja khoja
Dobhan ma khoja
Harayeko timro dil
Obhano ma khoja
Aahai baribari aahai laribari
Aahai baribari
Aahai baribari aahai laribari
Aahai baribari
Aahai baribari aahai laribari
Aahai baribari………