Ghumdai Ra Firdai by Melina Rai, Pratap Lama and Mohan Magar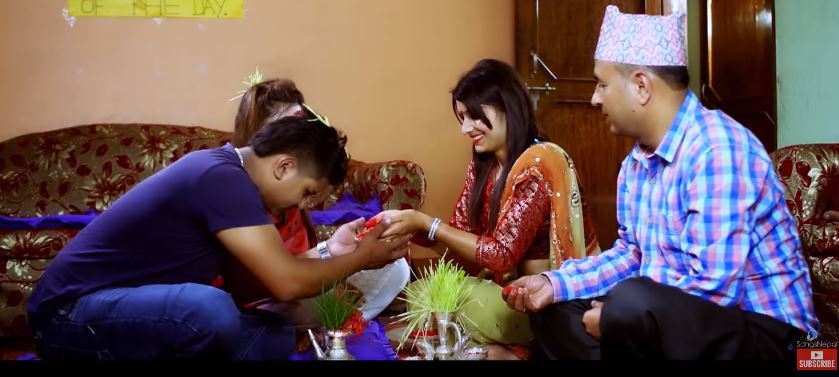 Ghumdai ra firdai is a melodious Dashain & Tihar  song by  Melina Rai, Pratap Lama and Mohan Magar. The lyrics for this song is written by Bed Prasad and music by Mohan Magar. The video is choreographed by  talented Rohit Basnet and edited by Nishan Ghimire.
Dashain & Tihar are  the major festivals celebrated by Nepalese Hindu all over the country. This song reflects the festive environment all around the country. The festival falls between the month of Ashoj and Kartik.
This music video is officially released online by songsnepal  via YouTube. This music video features MR Creation Family. Enjoy watching this beautiful song by Melina Rai, Pratap lama and Mohan Magar.
Here you can find lyrics of this song:
Ghumdai ra firdai ayoo nee cheli
Dashain ra Tihar
Ghumdai ra firdai ayoo nee maiti
Dashain ra Tihar
Ghumdai ra firdai ayoo nee cheli
Dashain ra tihar
Ghumdai ra firdai ayoo nee maiti
Dahsin ra tihar

Dukha ra pida birsera ra lailai
Dukha ra pida birsera lailai
Aaahai manau hai ramera
Aaahai manau hai ramera
Aaahai manau hai ramera
Aaahai manau hai ramera…

Bhailini ayeenin aagana
Badari kudali rakhana
Heey aausi ko baro
Gai tiharo bhailo
Heey aausi ko baro
Gai tiharo bhailoo
Hariyoo gobar lea lipeko
Laxmi puja gareko
Heey aausi ko baro
Gai tiharo bhailoo
Heey aausi ko baro
Hai tiharo bhailoo…

Bhana bhana bhai hoo
Deusi rea
Swormi lai kan
Deusi rea
Jhilimili jhilimili
Deusi rea
K ko ma jhilimili
Deusi rea
Battiko jhilimili
Deusi rea
Barsa ma din ko
Deusi rea
Chada ra parba
Deusi rea
Maau hai mili
Deusi rea
Ramrai bhana
Deusi rea

Aashish nai dinchau
Deusi rea
Yesai ra gharma
Deusi rea
Laxmi lea
Deusi rea
Basai ma garun
Deusi rea
Yesai ra gharko
Deusi rea
Gharbeti aama
Deusi rea
Gharbeti baba
Deusi rea
Baarpipal jastai
Deusi rea
Tapi ma rahun
Deusi rea
Lekhai ko mane
Deusi rea
Besi ko kane
Deusi rea
Yo deusi bhai ho
Deusi rea
Yettikai jani
Deusi rea……

Ghayeu hai hami ajako dina samjhana chodera
Ghayeu hai hami aaja ko dina samjhana chodera
Dukha ra sukha hasi ra khusi sabai lai badera
Sabai lai badera
Sabai lai badera…