Gopi Krishna to make Thamel dot com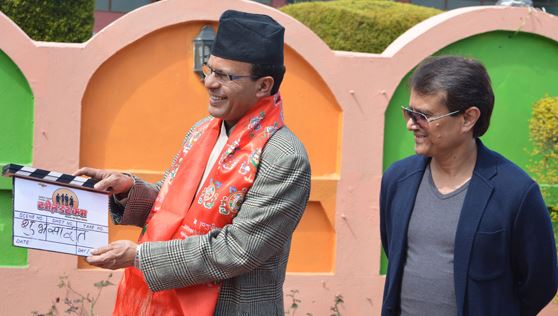 On the eve of day before the festival Holi, Gopi Krishna Movies organised a special programme in Kathmandu where they also announced the production of the film Thamel dot com. Information and communication minister Dr. Minendra Rijal inaugurated the ceremony with the clicking of claps.
Although before this Gopi Krishna Movies have announced the production of 7 films at once, this is the second film. Shooting of 1st film Homework was completed just few days ago. Likewise they have withdrawn from the project of film Fagu, which was to be joint production with actress Karishma Manandhar. Karishma has been shooting that film on her own investment.
Celebrating by putting tika of Holi, minister Rijal wished that Gopi Krishna Movies may earn lot of money. Movie Thamel dot com is going to be directed by Rajkumar Sharma where Promod Pahari and Nitu Sharma will be seen in main roles. Producer Nirak Poudel said that shooting of movie will start from coming Chaitra 5.
Both people from film industry and media were present in the Holi special programme organized by the Gopi Krishna Movies.