Heropanti Review and Box office collections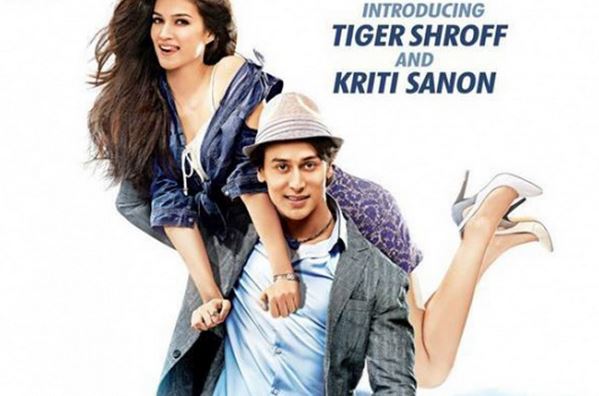 The action-romance film release on May 23 2014, Heropanti was a reminiscent of the good old time Hindi movies that circled around the romance kindled with hero's affection to the antagonist father-in-law.
The difference is, Heropanti is helluva better, Shot in the lofty mountains too vivid in Gulmarg, Kashmir. The story revolves around the Chowdhary family of which, the head is a strict patriarch and a grumpy man who has three younger brothers. Chowdhary preaches his Jat values to his two daughters, however the oldest, Renu elopes with her lover, Rakesh without any hint! Chowdhary assigns his brothers and men alike, to dig the entire contacts of Renu and Rakesh to find his daughters whereabouts but Renu remains missing. Chowdhary then orders his men to bring Rakesh's closest friends, one of which is our hero, Bablu.
After a vigorous battle that he puts up with the goons, Bablu is finally defeated to be brought to chowdhary. They strive to make the latter understand their innocence; however, no trust is attained in the process. They flee one day but are caught again when Bablu falls in love with a stranger girl whom he happens to catch a glimpse of. Renu's younger sister Dimple begs the four to tell her where her sister is and Bablu makes a deal with her to let her know her sister's whereabouts if she helps him find the girl whom he fell in love with, with the help of the earring that he picked up on the road after the girl dropped it. Bablu finishes his part of the act, but Dimple upon seeing the earring stays silent.
The Four Friend's lure the goons into a train to Shimla but are beaten madly when one of Chowdhary's brothers gets the information of Renu, overhearing Dimpy. The whole family and the four friends go to Delhi and locate the couple, although Renu is hostile towards her father. En route, some goons kidnap Dimple, from whom Bablu rescues her and both confess their love,. On coming back, Dimple's marriage is fixed and Bablu does nothing in order to save Chowdhary from further shame and hurt. After a series of twists, Chowdhary's eyes are opened and he permits Bablu and Dimpy's marriage and the couple, lives happily ever after.
Critics and Reviews:
The remake of Telugu movie, Parugu, Heropanti has broken all of Box Office's records of yester- day Student of the Year and such films. The film is critiqued as brilliant and outstanding a hit. Taran Adarsh has tweeted 'Hit' in capitals on Twitter, while audience has given 3.1 starts upon 5, which is satisfactory reaction. Subhash K Jha has given 3.5 stars; also, the critics together have praised Shroff for his debut movie.
Produced and directed by Wajid-Sajid duo, the film casts Tiger Shroff, Kriti sanon, Sandeep Dhar and Prakash Raj. The soundtracks are composed by Sajid-Wajid.
Budget and Box Office collection:
The film was produced at a total production and promotion cost of 25 Crores. The film crossed 21.25 crore in its first week itself and subsequently reached more that 39 crores until now.