Holi Re From Movie BUTTERFLY Ft. Aaryan Adhikari and Priyanka Karki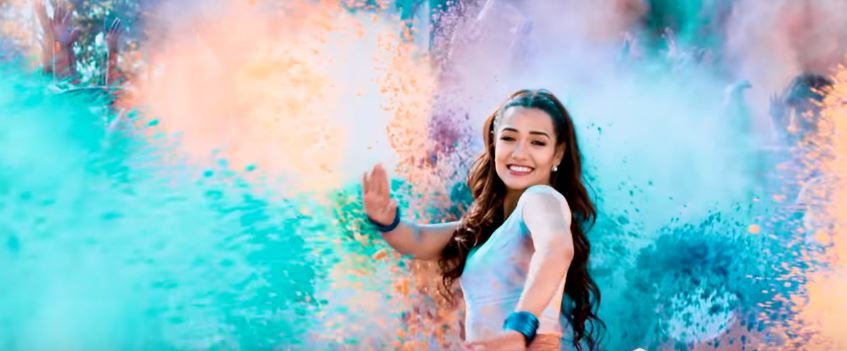 Holi Re is a Nepali Holi festival song from the New Nepali Movie "BUTTERFLY". The music video features actor and actress are Aaryan Adhikari, Priyanka Karki and Arpan Thapa. Holi Re is a Nepali song by Rajesh Payal Rai  and Mandavi Tripathi which is directed by Om Pratik Gurung. This music video is edited by Mandil Shrestha and Arjun G.C. This movie was choreographed by Kabiraj Gahatraj.
The music of this song is composed by Bikash Chaudhary and lyrics of this song was written by Pramod Dhungana. The music video is featuring by Priyanka Karki. Priyanka Karki has acted in several Nepali movies as well as Music video. She is one of the most busiest actresses in Nepali cinema industry. Holi Re song shows the Hindu spring festival which was celebrate in Nepal. It is also known as festival of colour or festival of love. The festival signifies the victory of good over evil, the arrival of spring, end of winter and for many a festive day to meet others, play and laugh, forget and forgive, and repair broken relationships.
The music video is released officially online by HighlightsNepal via Youtube. Hope that you will enjoy this Melodious romantic holi festival Song Holi Re.
Here is the lyrics for the song:
Holi re
Holi holi
Holi re
Holi holi
Holi re
Holi holi
Sarararara
Chat chat Chat
Holi re holi re
Ayo hera holi re
Holi re holi re
Ayo hera holi re
Timro mero milana ko
Ayo hera holi re
Peerati ko satai
Ranga layo hera
Holi re
Holi re holi re
Ayo hera holi re
Holi re holi re
Ayo hera holi re…

Ranga phula phulo
Rup ko chandra phulo
hooo
Ranga phula phulo
Rup ko chandra phulo
Othama geeta madhur
Nachu mann bhayo re
Khusi la bhariyecha
Aja mann ko jholi re
Holi re holi re
Ayo hera holi re
Holi re holi re
Ayo hera holi re
Timro mero milana ko
Ayo hera holi re
Peerati ko satai
Ranga layo hera
Holi re
Holi re holi re
Ayo hera holi re
Holi re holi re
Ayo hera holi re…

Mann ko panchi udyo
Pal ko dholi jhulyo
hoo
Mann ko panchi udyo
Pal ko dholi jhulyo
Resami lagcha thi
Payechu mann ko mit
Jhumera umanga ko
Aja chadi dholi re
Holi re holi re
Ayo hera holi re
Holi re holi re
Ayo hera holi re
Timro mero milana ko
Ayo hera holi re
Peerati ko satai
Ranga layo hera
Holi re
Holi re holi re
Ayo hera holi re
Holi re holi re
Ayo hera holi re……