Holiday Review and Box Office Collection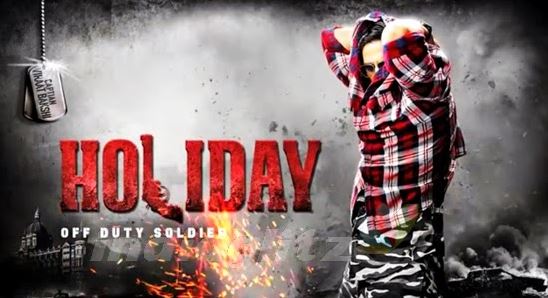 Super-entertaining and unintentionally funny are two terms that the latest Bollywood entrant, Holiday, can be described in. Akshay Kumar's comedy-action-thriller, directed by A. R. Murugadoss, is a remake of the 2012 Tamil blockbuster film,Thuppakki. Since its release on 6th June 2014, this ridiculously thrilling movie has received positive reviews from critics.
Akshay Kumar is a Captain in DIA who comes on a 'Holiday' to Mumbai and all hell breaks loose!As he starts to thwart the plans of 'sleeper cells' responsible for desecrating the city, action unravels and with it comes Murugadoss' magical, imaginative touch of southern films to Bollywood cinema. Spiderman and Sherlock Holmes will literally jump off cliffs when they see Akshay's detective skills on display, all with the aid of a Rubik's cube!
But the ridiculous bit apart, the action sequences from one of Bollywood's biggest stunt stars, leaves you on the edge of the seat, biting your nails. The fight sequencesand hand-to-hand combat techniquesshowcased are worth watching.The director's attempt at giving us an entertaining, fun and imaginative take on patriotism is quite refreshing. A thriller to the core, Holiday perfectly enmeshes action scenes with comedy and romance, keeping you guessing what's coming next.
The narration is engaging and the romance between Sonakshi Sinha and Akshayadds spice to the script. Sonakshi plays a boxer andAkshay's 'matrimonial interest'. For an actress who has rendered soul-touching performances in meaty roles, this one's a downer. She lacks the 'punch' and fails to impress with her over-the-top performance in some scenes. Cop buddy Sumeet Raghvanadds value to Akshay's performance with his natural acting finesse. He shares more screen time than Sonakshiand makes the most of it. Freddy Daruwala, the villain, doesn't paint a typical Bollywood terrorist – red eyed, cave-living, groggy and all. He is tech savvy and therefore this brings in a fresh perspective on terrorism. The film however, constantly focuses on a common man's duty towards his nation, and manages to get hoots and whistles at Akshay's action-packed performance!
Box Office Collection Reports
Holiday's sharp screenplay has earned it 5 out of 5 stars from critic Subhash K. Jha and 4 out of 5 from Taran Adarsh. A comedy action-thriller with a strong message, this film is a pure masala-entertainer. The box office collections for the opening weekend total are approximately 41.32 crore, while the film did a business of 12crore consistently on Friday and Saturday. Though the film missed its 50crore mark, it enjoyed a smashing first weekend collection.
Apparently, the collections for Friday- 12.18 crore, Saturday- 12.34 crore, and Sunday – 16.80 crore, helped this film gross a total net worth of Rs 68.63 crore. Releasing in 3500 screens across India, it's not a bad number achieved. The film is picking up fast at domestic box offices and comes as a sigh of relief after flops like 'Boss' and 'Once Upon A Time In Mumbai Dobara'. Akshay lost some weight to fit into the role of an army officer who has to look 12 years younger than his actual age, and Sonakshi trained to look like a boxer. Whether this Bollywood action thriller with a southern tadka, sustains its collections in the 2nd and third weeks, is something only time can tell!