How to Train Your Dragon 2 Review and Box Office Report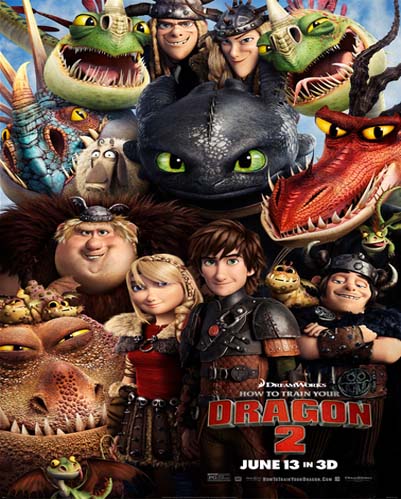 13th June 2014 allowed us a reentry into the fascinating world of Toothless and Hiccup, five years later! The movie is based on Cressida Cowell's book, How to Train Your Dragon and is the second part of the epic trilogy.Dean DeBlois' amazing direction and Dream Works animation, take excitement to a new high.After uniting dragons and Vikings on the island of Berk, Toothless and Hiccup get busy exploring uncharted territories and discover the secret ice cave. Here they enter the world of thousands of dragons protected by the daring and caring 'Dragon Rider'.
Now they must unite to fight evil and build a new future for Vikings and dragons together. Their battle, their journey, and their love for peace helps Toothless and Hiccup discover their hidden potential. Dream Works animation creates magic once again, as it gives wonderful expressions to dragons and Vikings alike. The touch of wittiness and the beautifully framed dialogues breathe more life into the already enticing plot. Voice over artists and stars have done a very convincing job at being just, to every character.
Jay Baruchelas Hiccup inspires us with his innocent yet brave voice and expresses his determination and love for adventure very well with every line. Gerard Butler's powerful and deep voice is perfect for Stoick the King. The Dragon Rider's character is the most interesting as it balances courageousness against injustice with caring concern. This character of Valka is beautifully rendered in voice by Cate Blanchett. America Ferrera comes across sweet yet adventurous in the expressive voice of Astrid. Together these characters just flow with the script and give us a 'toothy grin' now and then; and some warm tears too.
In spite of the rave reviews, and comparison with other successful 'Dream Works' animation films, this movie has managed to touch hearts. The action sequences are visualized brilliantly as Vikings fight on dragons spewing fire. Emotional content has never been as convincing and real before. How to Train Your Dragon 2 isn't just a kiddo film, it's much more than that. It is about love, peace, respect for the environment, courage and family bonding.
Box office collection Report for How to train your dragon 2
Critics believe that in spite of being a major animation film coming from Dream Works animation, How to Train Your Dragon 2 hasn't performed exceptionally at the box office.However, it has grossed a Domestic Total of $102,055,456 as of June 24, 2014and a worldwide total of $182,243,827. In its opening weekend, the film grossed a total of $49,451,322 and ranked 2ndafter being released in 4,253 theaters. Even if the film's box office performance was not as impactful as The Croods, the Kung Fu Panda films, and the Madagascar pictures, it still manages to impress and draw crowds. It definitely strikes as a wow film. 'Dreamswork', dragons rise and the human race for once moves beyond its selfish motives! Welcome a new journey into a realm beyond fear and fly into freedom, this summer – Go for it.