Humshakals Review and Box Office Report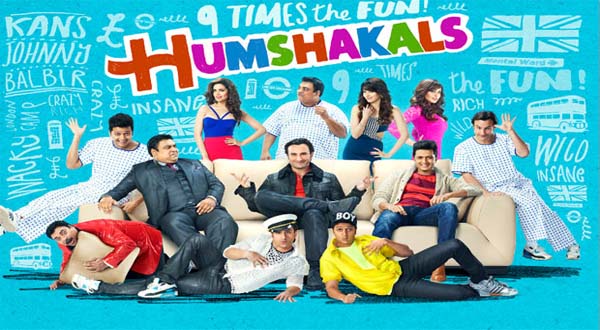 After the success of Houseful and Houseful 2 movie at the box office, there were lot of expectations from the witty director Sajid Khan. His recently released movie Humshakals is touted to be a torture film and is also considered to be worse than the Himmatwala as well. This comedy of ghastly error film is just a waste of time. Even if you have that extra pocket money, do not consider watching this movie. This two and half hour will put you off mood and leave you joyless as well as make you wonder why you even thought of watching this movie.
Star casts
This movie stars some of the biggest stars of Bollywood including Saif Ali Khan and Ritesh Deshmukh. You will be surprised to see Ram Kapoor in a different role who tries to play against his comfort zone of being a business tycoon. It is so unreal and funny to see the male and female versions of Ram Kapoor romancing each other. This can be really hilarious. Saif plays the role of Ashok the tycoon who plots against the rich. Ram Kapoor is seen as a greedy uncle and Ritesh plays the role of a friend. The obsession of multiple roles in the movie simply ruins the performance of the star-cast. Imagine a super star like Saif getting his hands and legs waxed and become a female. Moreover, it would be dreadful watching Ram Kapoor playing a role of a woman.
The pretty women BipashaBasu, Esha Gupta, and Tamannaah Bhatialack that comic timings. May be they are the only good thing in the movie to watch for. It seems that only Ritesh can match up with that witty timings and make the audience laugh for few seconds. He has acted fairly in all three roles and deserves to be appreciated for his incredible comic performance once again.
Being a Sajid Khan movie, you would definitely expect some below the standard jokes but the jokes in this movie are even below the IQ level or rather more meaningless. The film is simply dragged and misled. One of the scenes where the tri actors had to go undercover in drag just to seduce their lookalikes is just disgusting and embracing. It will just make you wonder, how high these actors were paid for agreeing to play roles like this. Saif who tried hard to make the audience laugh, failed this time with his bad timings.
Box Office Collection
Despite of all the negative and strict critics' comments and poor ratings, the film managed to hit the box office with Rs. 40 crore collection in just three days. It seems that the luck is favoring sajid khan and the negativity is giving more publicity to the film.
Humshakals may be one of the weirdest movie of 2014 and it would be more disheartening without Ritesh in it who is the only actor who has justified the character. The film is mishap with lot of potholes.