I Love You by Nandu Rai & Shila Rai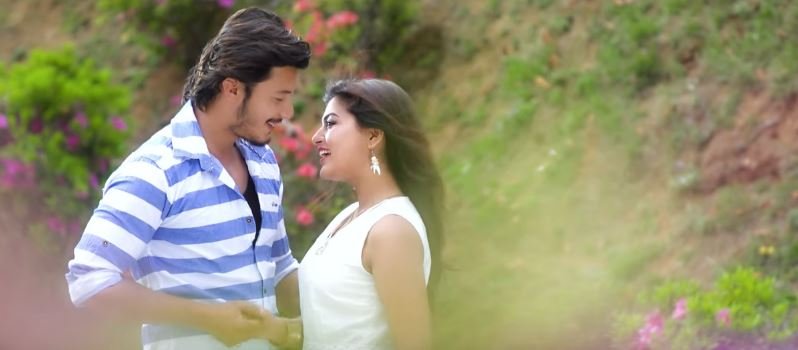 I Love You is a new Nepali aadhunik romantic pop song by Nandu Rai and Shila Rai. The music video features Nirajan and Shilpa Pokhrel. I Love You is a Nepali song by Nandu Rai and Shila Rai which is directed by Arjun Adhikari. I Love You music video was edited by Nishan Ghimire and music video was cinematographed by Utsav Dahal.
The music of this song is arranged by Mohit Munall and lyrics of this song was given by Nandu Ra. This music video features two of the versatile and talented artist Nirajan and Shilpa Pokhrel. Both of this artists has established themselves as a successful model in numerous music videos, television commercials, print ads and many more Nepali movies. I Love You is romantic pop song in which we can see the chemistry of love between Nirajan and Shilpa Pokhrel. This music tries to represent the important of love, relation of lovers and promise in love. In this song, Nirajan and Shilpa Pokhrel has understand the meaning of love and they have been in deep love between each other. I'm sure when you once listen the music you will love to tune again and again.
The music video is released officially online by Vibes Digital Nepal via Youtube. Hope that you will enjoy this romantic pop song I Love you.

Here is the lyrics for the song:
Jabani ma perati ko ranga cha
Charai tira khusi umanga cha
Phula ra bhamara ko mel cha
Chakhawa ra chakhawa ko khela cha
Bas timi malae mann pare pachi
Bas timi malae mann pare pachi
I love you
I love you
Love u too
Love you too…

Man bhanchu k
Timi suna la
Perati ko ummm
Mitho dhuna

Ma tara timi juna
Amar prem ko aa
Ma namuna
Bas timi malae ok bhane pachi
Bas timi malae ok bhane pachi
I love you
I love you
Love u too
Love you too…

Ma haschu ummmm
Timro lagi haaa
Ma runchu hoo
Timro lagi

Ma jiuchu ummm
Timro lagi ummm
Ma marchu ummm
Timro lagi
Bas dui mutu ek bhaye pachi
Bas dui mutu ek bhaye pachi
I love you
I love you
Love u too
Love you too
Love u too
Love you too
hooo ooooo
La laaa laa………