Inar Banauchhu By Yash Kumar (Audio)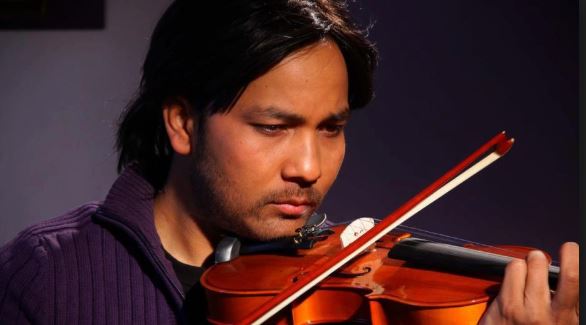 Inar Banauchhu is a Adhunik Sentimental Nepali song by Yash Kumar. This song is taken from his album "Tirkha". This song totally represent the racism by cast of our country, specially in rural area. In this song he ironically said that he will dig is own well and worship his own god who live inside his heart.
The lyrics and music for this song is composed by Yash Kumar. The vocal in this song is also given by Yash Kumar. He most of the time write and sing a emotional songs which are filled with pain and sorrow. In most of his songs we could feel the pain of racism in our country. From years, there is discrimination in our country. There is always a higher and lower cast. Higher cast dominating lower one from years. From this song Yash wants to show the issue in front of his fans and all Nepalese. When you once listen this song, I am sure you will keep repeating it.
The music video is released officially online by Dhaulagiri Cassette Center via Youtube. Hope that you will enjoy this melodious and sentimental song.
Here is the lyrics for the song Inar Banauchhu:
Ho..
la la….
Ah..
la la….

Ma aafnai aangar ma enar banaunchhu
Mero bhagwan lai merai chhati ma sajaun chhu
Ma aafnai aangar ma enar banaunchhu
Mero bhagwan lai merai chhati ma sajaun chhu
Malai dhara ma rokaa, chahe mandir ma cheka
Ma aafnai beglai sansar banaunchhu
Ma aafnai aangar ma enar banaunchhu
Mero bhagwan lai merai chhati ma sajaun chhu
Malai dhara ma rokaa, chahe mandir ma cheka
Ma aafnai beglai sansar banaunchhu

Ah ha ha

Jahan boli matra chha, bebahar chhaina
Jahan manchhe le manchhe lai manchhe sochin na
Jahan boli matra chha, bebahar chhaina
Jahan manchhe le manchhe lai manchhe sochin na
Ma yesto nagar ma kasari ramanunchhu
Tyasai le aalagai duniya sa jaunchhu
Malai dhara ma rokaa, chahe mandir ma cheka
Ma aafnai beglai sansar banaunchhu
Ma aafnai aangar ma enar banaunchhu
Mero bhagwan lai merai chhati ma sajaun chhu
Malai dhara ma rokaa, chahe mandir ma cheka
Ma aafnai beglai sansar banaunchhu

Aama malai kahan janma diyou
Yo sansar ma ma jiuna sakina
Bba malai kasto yo diniya
Yo duniya ma ma ramna sakina
Ae Aama malai kahan janma diyou
Yo sansar ma ma jiuna sakina
Bba malai kasto yo diniya
Yo duniya ma ma ramna sakina