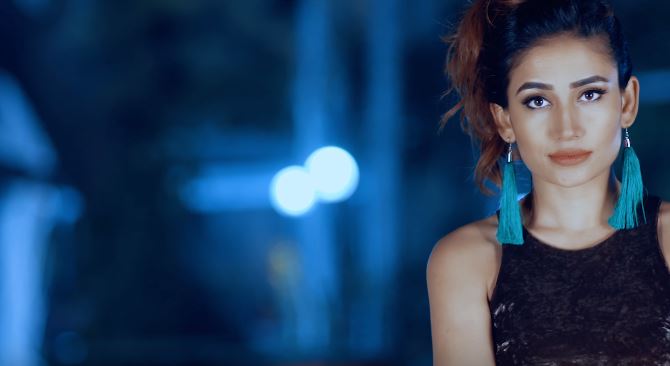 Jali Rumal is a romantic Nepali lok pop song by Raju Baral. The music video features Shristi Khadka and Tika Jung Thapa. Jali Rumal is a Nepali song directed by B Pandey. This music video was edited by Suresh Raut and was cinematographed by Arjun Tiwari & Team.
The lyrics the song was written by
B Pandey and the music for the song was composed by
Subash Bhusal. The music video features hot and gorgeous model
Shristi Khadka. She is a beautiful and hot model who has given her jaw dropping performance in this music video with another multi-talented handsome model
Tika Jung Thapa. In his songs he performed in energetic way with unique action. Jali Rumal music video was based on love and romance. In this music video, we can see the romance between
Shristi Khadka and Tika Jung Thapa. When you once listen this song, I am sure your body will start moving.
The music video is released officially online by Music Nepal via Youtube. Hope that you will enjoy this romantic and melodious song Jali Rumali.
Here is the lyrics for Jali Rumal:
Jali Rumal Jali Rumal
Jali Rumal Jali Rumal

Auda ni timro ghar batai ma
Jadha ni timro ghar batai ma
Auda ni timro ghar batai ma
Jadha ni timro ghar batai ma
Jali rumal jali rumal
Jali rumal jali rumal
Hallaudai hide batai ma
Jali rumal
Hallaudai hide haatai ma
Jali rumal
Hallaudai hide Haatai ma
Jali rumal
Hallaudai hide Haatai ma
Jali rumal
Hallaudai hide Haatai ma……

Timro rupa jobani le
Tanna samma tanyo

Timro rupa jobani le
Tanna samma tanyo
Sikari le sikar jahi
Dil mai chura hanyo
Auda ni bhet huna batai ma
Jadha ni bhet huna batai ma
Auda ni bhet huna batai ma
Jadha ni bhet huna batai ma
Jali rumal jali rumal
Jali rumal jali rumal
Hallaudai hide batai ma
Jali rumal
Hallaudai hide haatai ma
Jali rumal
Hallaudai hide Haatai ma
Jali rumal
Hallaudai hide Haatai ma
Jali rumal
Hallaudai hide Haatai ma……

Bheta huda risaucha
Bole dar lagne

Bheta huda risaucha
Bole dar lagne
Malae pani mannko kura
Kholna dar lagne
Auda ni baata hune aakahi ma
Jadha ni baata hune aakhai ma
Auda ni baata hune aakahi ma
Jadha ni baata hune aakhai ma
Jali rumal jali rumal
Jali rumal jali rumal
Hallaudai hide batai ma
Jali rumal
Hallaudai hide haatai ma
Jali rumal
Hallaudai hide Haatai ma
Jali rumal
Hallaudai hide Haatai ma
Jali rumal
Hallaudai hide Haatai ma……